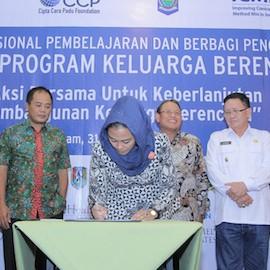 This month, 13 Indonesian district heads and mayors from districts and municipalities signed a joint commitment to revitalize, sustain, and support their local family planning program. The joint commitment illustrates the lasting support of local leaders that have implemented the Advance Family Planning (AFP) advocacy initiative and the Improving Contraceptive Method Mix (ICMM) project funded by USAID and the Australian Department of Foreign Affairs and Trade.
Subnational leaders from Ambon City, Bengkayang, East Lombok, Kapuas Hulu, Karanganyar, Karawang, Kediri, Kuningan, Lumajang, Sumbawa, Tual City, Tuban Districts, and West Lombok signed the joint commitment at the 2016 National Sharing Meeting on Advocacy held May 31 to June 2, 2016.
The leaders pledged to push forward three critical points in order to support Indonesia's goal to increase access to family planning services as stated in the national 2015-2019 Mid-term National Level Development Plan, Family Planning 2020 commitment, and Sustainable Development Goals:
Prioritize the family planning program in their local development agenda
Increase the family planning program operational budget with local and village funds, and
Support and optimize the role of District, Sub-District, and Village Advocacy Working Groups for family planning
AFP local partner Yayasan Cipta Cara Padu Foundation hosted the sharing meeting in collaboration with the West Nusa Tenggara Provincial Working Group. This annual event serves as an arena for sharing experiences, lessons learned, and exchanging information among districts/municipalities that have implemented AFP and ICMM.
The meeting was officially opened by the Vice Governor Muhammad Amin of the host province of West Nusa Tenggara. Two hundred participants attended, representing the central and local government, the private sector, donor agencies, civil society organizations, the community, and religious leaders.
The National Population and Family Planning Board (BKKBN) Deputy for Advocacy, Mobilization and Information, Abidinsyah Siregar, reiterated in his opening remarks that BKKBN lends its full support toward the leaders' joint commitment. BKKBN hopes that this initiative will pave the way for continuous improvement. "We truly appreciate this," said Abidinsyah. "It is a highly innovative initial step for the success of the family planning program in Indonesia."
Source
Photo courtesy of Yayasan Cipta Cara Padu