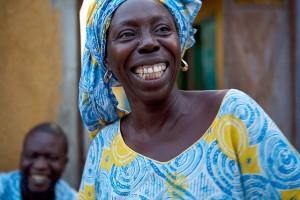 Twenty Senegalese mayors committed to invest a total of 21.5 million FCFA (approximately US $37,700) for family planning for the women in their communities. 
Advocacy from Advance Family Planning (AFP) local partner Reseau Siggil Jigeen (RSJ) with support from Palladium West Africa, led fifteen mayors to sign letters of commitment between November and December 2016. Their action motivated five additional mayors in neighboring communes to make commitments in March 2017 and request family planning information and advocacy support from RSJ. With these additional commitments, a total of 41 mayors have now made financial commitments for family planning due to AFP advocacy since 2014.
The 20 commitments—ranging from US $1,630 to $17,300 to cover family planning services—will play a key role in increasing financial resources for family planning in the Dakar, Kaffrine, and Thiès regions.
Kaffrine region is among the poorest regions in Senegal, with a 22.5% unmet need for family planning. Dakar (16.7% unmet need) and Thiès (17% unmet need) also have large populations of poor women and young people who lack access to family planning information.[1]
To effectively demonstrate local women's unmet and critical need for family planning, RSJ worked closely with local monitoring committees comprised of the municipal secretary, the president of the health committee, delegates from the mayor's office and municipal council, and women and youth representatives, Bajenu Gox (community health workers), and other community workers from each commune.
RSJ conducted an orientation for the local monitoring committee members and district health providers on the benefits of family planning, recognizing that key players in the communities often lack basic knowledge of or strong arguments for family planning. The orientation helped stakeholders to be better prepared for the subsequent AFP SMART facilitations seeking mayoral commitment.
RSJ hosted a ceremony in Kaffrine commune to recognize the mayors for championing family planning on March 7, 2017 – during which the five additional mayors made their commitments amidst the 150 attendees. Former Prime Minister and "Envoyée Speciale" of the President of the Republic of Senegal, Mrs Aminata Touré, chaired the event in the presence of Kaffrine mayor, Mr Abdoulaye Willane, and other mayors of Kaffrine region.  
RSJ is working closely with Senegal's Division of Reproductive Health and Child Survival, regional health officers, and the mayors to ensure that the allocated funds are used effectively to provide family planning services. Each commune set up a committee that includes district health providers, the mayor's councilors, and representatives from RSJ to monitor the implementation of their respective commitment. The committees already developed comprehensive plans for disseminating family planning services to ensure regular monitoring of the commitments' implementation.
 
[1]http://aps.sn/actualites/societe/sante/article/kaffrine-14-des-femmes-mariees-agees-de-15-a-49-ans-utilisent-les-methodes-contraceptives-docteur
Source
Photo courtesy of Flickr Creative Commons by International HIV/AIDS Alliance