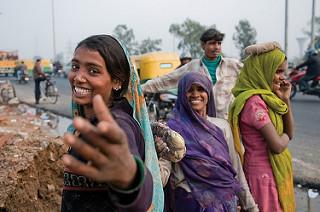 This year, all 52 Urban Primary Health Centers serving the 3.1 million people in Lucknow district, Uttar Pradesh, India began offering intra-uterine contraceptive device (IUCD) insertion services. Between January and September 2016, 2,836 women received IUCD insertions.
IUCD usage in Uttar Pradesh had reduced from 59% in 2010-11 to 54% in 2015-16. To address this, the Lucknow district advocacy working group – comprised of civil society and local government authorities, including the District Chief Medical Officer – recognized that they could initiate integrating IUCD insertion services in urban health centers during a SMART facilitation on July 24, 2015.
District working group member and national non-governmental organization Hindustan Latex Family Planning Promotion Trust (HLFPPT), partnered with the State Innovations in Family Planning Services Agency to train 78 staff nurses across the urban primary health centers. The District Health Society Lucknow ensured that the necessary equipment and supplies were available to provide the services. Between December 2015 and March 2016, 56 out of the 78 staff nurses were trained on IUCD insertions, as well as four auxiliary nurse midwives.
The District Chief Medical Officer Dr. Yadav, stated, "The engagement of the Lucknow district working group in developing the objective for provision of IUCDs in 52 urban primary health centers has been very helpful for the family planning program in Lucknow district." He added, "It has enabled availability and accessibility of IUCDs through the training of staff nurses by HLFPPT and improved supply mechanisms for IUCDs. We appreciate the work of the district working group and look forward to continued engagement."
The inclusion of IUCD services in all of Lucknow's urban health centers will play a vital role in increasing family planning uptake. The success of these centers will allow for replication in other urban areas of Uttar Pradesh state, and support its commitment to add an additional 12.4 million new contraceptive users by 2020.
As a next step, the Lucknow district working group, with support from Advance Family Planning partner Population Foundation of India, will develop a follow-up system to track IUCD removal and retention. 
Management Information Systems, Hindustan Latex Family Planning Promotion Trust
Uttar Pradesh Health Management Information Systems Data, State Innovations in Family Planning Services Agency
Source
Photo courtesy of Flickr Creative Commons by International AIDS Vaccine Initiative