March 13-15, 2014
Ouagadougou, Burkina Faso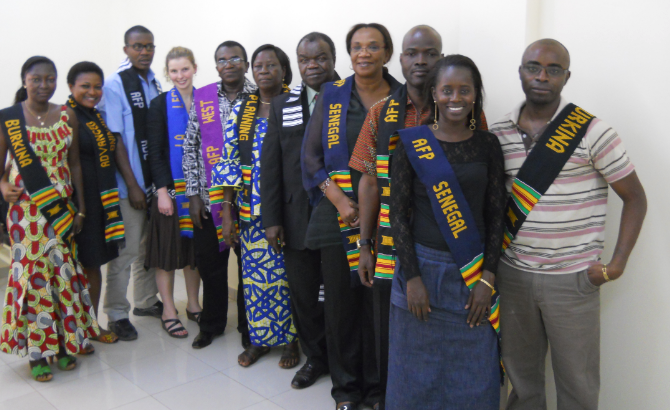 The first AFP Francophone Partners Meeting was held in March 2014 in Ouagadougou, with representatives from AFP's partners in Senegal, Burkina Faso, DRC, and West Africa regional coordinating partner Futures Group. Presentations and handouts from the meeting are posted below.
The meeting was successful in fostering a team dynamic between the francophone AFP partners to encourage sharing of lessons learned as well as further grounding our newest partners in the AFP approach using the new AFP SMART: Guide to a Quick Win tool.
***
La première Réunion des partenaires francophones AFP a eu lieu en mars 2014 à Ouagadougou, réunissant des représentants des partenaires AFP du Sénégal, Burkina Faso et RDC, ainsi que le partenaire coordinateur d'AFP pour l'Afrique de l'Ouest, Futures Group. Les présentations et documents de la réunion sont disponibles ci-dessous.
La réunion a permis de promouvoir une dynamique d'intégration et de travail d'équipe entre les différents partenaires francophones AFP, encourageant le partage de connaissances et d'expériences, tout en permettant aux nouveaux partenaires de mieux connaître et s'approprier l'approche AFP en utilisant le nouvel outil "AFP SMART : Guide pour l'obtention de gains rapides".