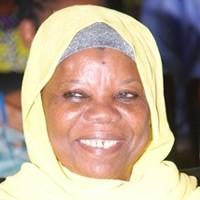 March 23, 2016
 
Advance Family Planning (AFP) is deeply saddened by the March 19 passing of Dr. Hanuni Sogora, a life-long advocate and friend of the AFP family.
 
"Dr. Sogora was a true leader and generous champion for women and girls and the people of Zanzibar," said AFP Executive Director Beth Fredrick. "She believed strongly that family planning was a right, not a privilege."
 
Dr. Sogora was present when AFP launched in Dar es Salaam in 2010. She was the only woman among a group of strong men in a government delegation from Zanzibar and she instantly distinguished herself among her peers. She was one of the first to organize a strategy session with Zanzibari colleagues and achieve advocacy wins as a result. Given her passion, it was difficult for anyone to say no to her powers of persuasion.
 
She served as a member of the African Women Leaders Network for Reproductive Health and Family Planning, founded within Advance Family Planning, and was always ready to join in an effort if it meant that others would know how important it was to take action.
 
Dr. Sogora was previously the Director of the Reproductive Health and Child Health Program at the Ministry of Health in Zanzibar. She began her career as a midwife, obtained a degree in Medicine, and served at the Ministry of Health for over 20 years. Among her many contributions, Dr. Hanuni united leaders of faith to tackle misconceptions regarding family planning in the community.
 
Beth continued, "Her legacy is that policymakers, health professionals, and countless women, men, and families have benefitted from her wisdom and commitment."

En mémoire du Dr. Hanuni Sogora
23 mars 2016
 
Advance Family Planning (AFP) est profondément attristée par le décès ce 19 mars du Dr. Hanuni Sogora, plaideuse de longue date et amie de la famille AFP.
 
« Le Dr. Sogora était une réelle leader et une championne généreuse qui défendait les femmes, les jeunes filles et le peuple de Zanzibar, » a déclaré la Directrice exécutive d'AFP, Beth Frederick. « Elle avait la ferme conviction que la planification familiale est un droit, et non un privilège ».
 
Le Dr. Sogora avait participé au lancement d'AFP à Dar es Salaam en 2010. Elle était la seule femme au sein d'un groupe d'hommes de la délégation gouvernementale de Zanzibar, et elle a su gagner instantanément la reconnaissance de ses pairs. Elle a été l'une des premières à organiser une session stratégique avec nos collègues Zanzibari, et à atteindre par la suite des gains rapides. Passionnée, ses pouvoirs de persuasion étaient tels qu'on pouvait difficilement lui dire non.
 
Elle était membre du Réseau des Femmes Leaders Africaines pour la Santé de la Reproduction et la Planification Familiale (AWLN), fondé au sein d'Advance Family Planning, et était toujours prête à apporter son aide si cela signifiait que d'autres comprendraient mieux l'importance de passer à l'action.
 
Le Dr. Sogora a été Directrice du Programme de Santé de la Reproduction et de Santé Infantile au Ministère de la santé du Zanzibar. Elle a commencé sa carrière en tant que sage-femme, a obtenu un diplôme de médecine, et a travaillé au service du Ministère de la santé pendant plus de vingt ans. On se souviendra, parmi ses nombreuses contributions, comment le Dr. Hanuni a unifié les chefs religieux pour déconstruire les préjugés sur la planification familiale dans la communauté.
 
Beth a ajouté : « Son legs est que les législateurs, les professionnels de la santé, et un nombre incalculable de femmes, d'hommes et de familles ont bénéficié de sa sagesse et de son engagement ».
Source
Photo courtesy of African Women Leaders Network for Reproductive Health and Family Planning