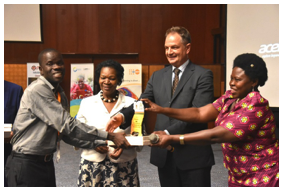 The second Uganda National Conference on Family Planning in September ended with Advance Family Planning (AFP) focus districts winning the majority of the inaugural 2017 Family Planning Best Performers Awards.
Out of the seven districts recognized, four are AFP focus districts: Apac, Kabarole, Mubende, and Nebbi. The districts of Kiruhura, Mpigi and Wakiso also won. In addition, AFP associate partner Uganda Family Planning Consortium (UFPC) earned recognition for their contribution to improving family planning indicators in the country, alongside UNFPA Uganda and the Interreligious Council of Uganda.
"On behalf of the Government of Uganda it's our pleasure to award the Uganda Family Planning Consortium in recognition of the great work you have done in this country," said the State Minister for Primary Health Care Joyce Kaducu, who presided over the conference's closing ceremony. 
UFPC is a coalition of the largest family planning organizations in Uganda. AFP's in-country partners extended financial and technical support to UFPC for the last five years to strengthen family planning advocacy and coordination among the member organizations.      
"Our mCPR is 42% and our unmet need is 14%. We are committed to working harder together with partners to ensure that we meet the Ministry of Health targets of having a mCPR of 50% and unmet need of 10% [by 2020]," said Dr. Richard Mugahi, the Kabarole district health officer. AFP Uganda partner Partners in Population and Development, Africa Region Office (PPDARO) has been engaged with Kabarole district since 2013.
Excited about the awards, Reproductive Health Uganda (RHU) executive director Jackson Chekweko said the recognition is "real testimony that the approach used targeting the leaderships, to empower them with information on family planning, advocating for budget allocation, advocating for stronger coordination has turned into real results…We are proud as RHU and PPDARO to be associated with the respective districts recognized by the Ministry of Health. 
Leaders from AFP districts made presentations in the plenary and breakaway sessions, passionately discussing issues affecting family planning uptake and calling on the Government of Uganda to invest more in family planning.
The second Uganda National Conference on Family Planning took place on September 26 – 27, 2017. It aimed to increase commitment from government (both national and subnational) on domestic resources for family planning; raise the profile of family planning among policymakers, programmers, implementers and users; and position family planning as a tool for national development, social transformation, and attainment of Vision 2040, among others.