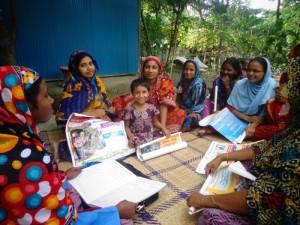 September 20, 2016
Advance Family Planning (AFP) is expanding its advocacy initiative to Bangladesh, partnering with Marie Stopes Bangladesh to lead efforts there. Bangladesh will be AFP's tenth focus country since the initiative began in 2009, and its third in Southeast Asia. The expansion is part of AFP's $19.5 million supplemental awards to broaden its efforts to new geographies in 2016.
"Marie Stopes Bangladesh is honored to become the newest partner of AFP initiative, as we believe that through this partnership we can increase the access of women to family planning services at a larger scale. This will enable us in further addressing the most critical issues creating barriers in uptake of family planning services as a whole in the country," said Masrurul Islam, Country Director, Marie Stopes Bangladesh.
Bangladesh has made impressive progress in increasing contraceptive use and reducing its fertility rate. According to the Bangladesh Demographic and Health Survey, modern contraceptive prevalence among married women increased from 44% in 2000 to 54% in 2012. However, access to the full range of contraceptive methods and quality, affordable services remains limited.
In 2012, Bangladesh made a Family Planning 2020 commitment to reduce unmet need for contraceptives to 7% and, among other objectives, increase use of long-acting and permanent method use to 30% by 2021. AFP will support Marie Stopes Bangladesh in working alongside government, local civil society, and other stakeholders to apply AFP's evidence-based advocacy approach to increase resources and secure policies to make this commitment a reality.
"Historically, Bangladesh has been a pioneer in family planning. Many innovations, such as household distribution of contraceptives, were developed in Bangladesh. However, getting to that last stretch—a modern contraceptive use above 65%—is a particularly difficult challenge for a country. It requires focused, strategic efforts by advocates and government partners," said Duff Gillespie, AFP's Principal Investigator. "It's a challenge we're eager to support through Marie Stopes Bangladesh."
Marie Stopes Bangladesh has provided sexual, reproductive, and maternal health services in Bangladesh for more than 25 years. It is one of the largest sexual and reproductive health providers in the country, serving around two million clients every year.  In addition to outreach and community programs, Marie Stopes Bangladesh partners with the Government of Bangladesh in supporting the National Family Planning Programme with 141 clinics across the country.
About Advance Family Planning
Advance Family Planning aims to increase financial investment and political commitment needed to ensure access to quality family planning through evidence-based advocacy. Based in the Population, Family and Reproductive Health Department of the Johns Hopkins Bloomberg School of Public Health and led by the Bill & Melinda Gates Institute for Population and Reproductive Health, AFP works to achieve the goals of the Family Planning 2020 initiative: to enable women and girls in some of the world's poorest countries to use contraceptive information, services and supplies, without coercion or discrimination. AFP is supported by the Bill & Melinda Gates Foundation, the David & Lucile Packard Foundation, and The William and Flora Hewlett Foundation.
About Marie Stopes Bangladesh
Marie Stopes Bangladesh was established in 1988 in Chittagong by Marie Stopes International. It provides quality sexual and reproductive healthcare to women, men, and adolescents across the country. Aside from the delivery of needed services, Marie Stopes Bangladesh also contributes to national level policy formulation by participating in policy consultation and providing technical assistance to government and non-government organizations working in sexual and reproductive health.
AFP s'étend au Bangladesh et annonce un nouveau partenariat avec Marie Stopes
Advance Family Planning (AFP) étend son initiative de plaidoyer au Bangladesh, en s'associant à Marie Stopes Bangladesh qui mènera ces efforts dans le pays. Le Bangladesh est le dixième pays cible d'AFP depuis que l'initiative a été lancée en 2009, et le troisième en Asie du Sud-Est. L'essor d'AFP fait partie d'une subvention de 19,5 millions de dollars supplémentaires destinés à élargir l'activité d'AFP dans de nouvelles régions en 2016.
« Marie Stopes Bangladesh est honorée de devenir le tout dernier partenaire de l'initiative AFP ; nous pensons que ce partenariat nous permettra d'augmenter l'accès des femmes aux services de planification familiale à plus grande échelle. Il nous permettra de répondre davantage encore aux problèmes critiques qui font barrière à l'utilisation des services de planification familiale dans leur ensemble dans le pays, » a déclaré Masrurul Islam, Directeur de Marie Stopes au Bangladesh.
Le Bangladesh a fait d'impressionnants progrès dans l'augmentation de l'utilisation de la contraception et la réduction de l'indice de fécondité. Selon l'Enquête Démographique et de Santé du Bangladesh, la prévalence contraceptive moderne chez les femmes en union a augmenté de 44% en 2000 à 54% en 2012. Cependant, l'accès à une large gamme de méthodes contraceptives de qualité, et à des services à un prix abordable, demeure limité.
En 2012, le Bangladesh s'est engagé à travers le partenariat mondial Family Planning 2020 à réduire les besoins non satisfaits de contraception à 7% et, entre autres objectifs, à augmenter l'utilisation des méthodes à longue durée d'action et permanentes à 30% d'ici 2021. AFP soutiendra Marie Stopes Bangladesh dans son travail avec le gouvernement, la société civile et d'autres acteurs clés en appliquant son approche de plaidoyer fondé sur des résultats prouvés, dans le but d'augmenter les ressources et de favoriser des politiques publiques pour concrétiser l'engagement du pays.
« Historiquement, le Bangladesh a été l'un des pionniers de la planification familiale. De nombreuses innovations, telle que la distribution de contraceptifs aux ménages, ont été développées au Bangladesh. Cependant, parvenir au tronçon final –une utilisation contraceptive au dessus de 65%—représente un défi particulièrement difficile pour les pays. Cela nécessite les efforts ciblés et stratégiques des plaideurs et des partenaires du gouvernement, » a déclaré Duff Gillespie, Investigateur Principal d'AFP. « Nous sommes heureux d'aider Marie Stopes Bangladesh à relever ce défi. »
Marie Stopes Bangladesh fournit des services de santé sexuelle, reproductive et maternelle au Bangladesh depuis plus de 25 ans. L'un des prestataires de santé sexuelle et reproductive les plus importants du pays, Marie Stopes est au service de deux millions de clients chaque année. En plus de ses programmes communautaires et de sensibilisation, l'organisation travaille de concert avec le gouvernement du Bangladesh en soutien à son Programme National de Planification Familiale avec 141 cliniques dans le pays.
À propos d'Advance Family Planning
Advance Family Planning vise à augmenter l'investissement financier et l'engagement politique en faveur de l'accès à la planification familiale de qualité à travers le plaidoyer fondé sur des résultats de recherche prouvés. Basée dans le Département de Population, Famille et Santé de la Reproduction de l'École de Santé Publique Bloomberg de l'Université Johns Hopkins, et dirigée par l'Institut Bill & Melinda Gates pour la Population et la Santé de la Reproduction, AFP veille à atteindre les objectifs de l'initiative Family Planning 2020 : permettre aux femmes et filles des pays les plus pauvres du monde d'utiliser des informations, services et produits de contraception, sans aucune forme de coercition ni discrimination. AFP est soutenue par la Fondation Bill & Melinda Gates, la Fondation David & Lucile Packard, et la Fondation William et Flora Hewlett.
À propos de Marie Stopes Bangladesh
Marie Stopes Bangladesh a été établie en 1988 à Chittagong par Marie Stopes International. L'organisation fournit des soins de santé sexuelle et reproductive de qualité aux femmes, aux hommes et aux adolescents dans tout le pays. En plus de la prestation de services indispensables, Marie Stopes Bangladesh contribue à la formulation de politiques nationales en participant aux consultations et en apportant son assistance technique au gouvernement et aux organisations non gouvernementales qui travaillent dans le domaine de la santé sexuelle et reproductive.
Source
Photo courtesy of Marie Stopes Bangladesh