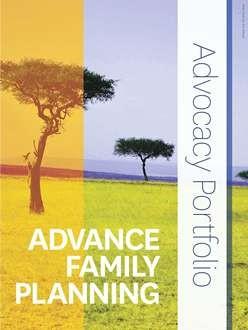 The Advance Family Planning (AFP) initiative launched a new advocacy resources toolkit today at a special side event at the 2013 International Conference on Family Planning in Addis Ababa, Ethiopia. The AFP Advocacy Portfolio comprises guidance for advocates on how to design, implement, and capture the results of an evidence-based, locally-driven advocacy strategy. It presents AFP's focused advocacy approach, which hones in on the key decisionmaker and policy change that have the highest potential for impact in the near term.
"The formula for successful advocacy is simple: concentrate on what can be achieved and by whom, take action, and deliver and document results. That is the core of AFP's approach – and what the Advocacy Portfolio guides advocates to accomplish," said Beth Fredrick, Executive Director for AFP.
Adapted from well-established decision-making concepts and refined through practical application in resource-limited settings, the AFP Advocacy Portfolio includes:
Advocate for Family Planning, an introduction to AFP's approach.
Develop a Strategy, featuring AFP SMART: A Guide to Quick Wins, a 9-step approach to developing a focused, collaborative advocacy strategy that leads to quick wins.
Implement a Plan, tools to understand your context and make your case to decisionmakers.
Capture Results, with the AFP Results Cascade: A User's Guide, a monitoring and evaluation tool that provides instructions to track a quick win or series of quick wins to long-term impact.
The simple tools contained in the portfolio are designed to be easily accessible; adaptable for any context (whether at the national, state, or district level); and responsive to the need to measure impact. They include guidance on how to refine a strategic vision, identify and motivate key players, take action, manage and overcome setbacks, and monitor and evaluate success.
Used separately, the tools can supplement an existing effort or inject new life into an initiative that has lost its vision or momentum. Used together, they provide a comprehensive roadmap to develop, implement, and evaluate a focused advocacy strategy from start to finish. Intended primarily for family planning advocates, the portfolio can be adapted for use in any sector.
View, download, and share the AFP Advocacy Portfolio here