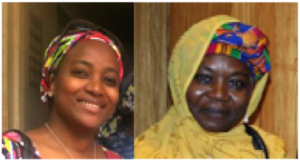 In Memoriam
Advance Family Planning recently lost two key champions and members of our family.
Dr. Fatimah Tumsah, AFP Program Officer with Pathfinder Nigeria, along with three Kaduna State Ministry of Health officials died two weeks ago in a car accident. At the time of the accident, the four of them were conducting an assessment of health facilities in a Kajura local government area and were returning to Kaduna.
 
Fatimah was a warm, good natured person who was passionate about family planning. A recent medical doctor graduate, she was a committed advocate for maternal and child health in Nigeria who contributed significantly to actualizing the vison of the youth wing of the last National Family Planning conference in Nigeria. Along with Habeeb Salami, she was a key focal person in implementing AFP advocacy in several states in Nigeria.
 
Visit the website made in her memory: http://fatimah-tumsah.memory-of.com/About.aspx
---
Hajiya Bilkisu Yusuf, Executive Director of AdvocacyNigeria was among the pilgrims who lost their lives in the recent stampede in Mecca. She was a veteran journalist and first female newspaper editor from the North of Nigeria. She is widely known in Nigeria and internationally for her advocacy and writings on gender, maternal health, and peace-building and conflict resolution. She was a founding member of several non-governmental organizations (NGOs), including Women in Nigeria (WIN), the Federation of Muslim Women's Associations in Nigeria (FOMWAN), and AdvocacyNigeria.
 
AdvocacyNigeria supported AFP activities in a number of states in Nigeria, mostly in northern Nigeria. Bilkisu was a lead consultant and advocacy trainer and collaborated with several NGOs working on increasing access to family planning to services. She was committed and passionate about improving the lives of women and girls.

Hear a tribute to her from Public Radio International: http://www.wnyc.org/story/lost-in-the-hajj-stampede-was-a-pioneering-jou....
Fatimah and Bilkisu will be missed by the AFP family. Our deepest condolences go out to their respective families and colleagues.