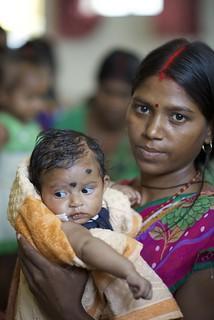 Twenty-six public health facilities in Ahmednagar district in Maharashtra, India, have seen a 26% increase in the number of clients receiving postpartum intrauterine device (PPIUD) services between April 2018 and March 2019, compared to the same period last year. This increase in uptake follows renewed government efforts to enhance provider training on family planning counseling and PPIUD service delivery across the district. Acceptance rates for PPIUD among clients delivering in facilities also rose 8 percentage points from 25.4% to 33.4%, compared to the prior year. Of the women electing to receive services, nearly two-thirds were first-time mothers. The 26 facilities represent 4% of health facilities in the district, yet account for 18% of the nearly 62,000 institutional deliveries across the district [1]. 
Geographically, Ahmednagar district is the largest district in Maharashtra. An estimated 39% of women marry before they are 18 years old, and nearly one-third of young married couples begin childbearing in their teenage years [2]. In January 2018, Advance Family Planning (AFP) local partner Jhpiego India conducted a landscape assessment in the district. During the formation of the district working group (DWG), Jhpiego shared their findings: that none of the facilities in the district had a dedicated space and trained staff to provide family planning counseling services. During the DWG's first meeting in March 2018, the members identified an opportunity to increasing provider training in the facilities and improving client counseling.
In April 2018, the DWG members asked the Civil Surgeon for approval to establish family planning counseling corners in 13 facilities with local resources and to organize clinical orientation sessions on PPIUD services for providers in 26 facilities across the district. The Civil Surgeon directed them to the District Training Centre and the Hospital Training Team (HTT), which are government-funded entities that organize family planning counseling orientation sessions and in-service, competency-based trainings for medical officers, staff nurses, auxiliary nurse midwives, and counselors on PPIUD insertion. The DWG helped HTT to identify staff, plan for the sessions, and arrange participant logistics.
The first training was conducted between April and May 2018 for 46 staff nurses from the 13 facilities. It focused on customizing family planning counseling messages according to the stages of a woman's life. Participants were provided with counseling kits and other information, education, and communications materials funded by local sources. Following the training, the DWG established a tracking mechanism for family planning counseling at the health facilities. From July 2018 to March 2019, 9,484 eligible couples were counseled on their family planning options.
At the same time, 12 medical officers and 22 staff nurses associated with the labor and delivery room at the 26 public health facilities were also trained by HTT with support from Jhpiego on PPIUD insertion skills, infection prevention, and client follow-up in alignment with the Government of India guidelines [3]. These trained providers are now more confident to provide IUDs to clients who choose this method following delivery.
As a next step, Ahmednagar DWG members plan to replicate a similar initiative in other facilities within the district and continue to ensure that providers have access to refresher training opportunities. Jhpiego plans to continue to advocate with stakeholders in other AFP geographies to ensure quality competency-based training and counseling skills among service providers by sharing the Ahmednagar experience.
[1] The analysis compared April 2017 – March 2018 (n=2,954) and April 2018 – March 2019 (n=3,726). The data is from the Ministry of Health & Family Welfare. Health Management Information System – Standard Reports. https://nrhm-mis.nic.in/hmisreports/frmstandard_reports.aspx
[2] National Family Health Survey 4. Accessed May 14, 2019. http://rchiips.org/nfhs/MH.shtml.
[3] Government of India, Department of Health and Family Welfare, Ministry of Health & Family Welfare. Accessed January 15, 2019. http://nhm.gov.in/nrhm-components/rmnch-a/family-planning/schemes,-guidelines-important-government-orders.html
Source
Photo courtesy of White Ribbon Alliance and Flickr Creative Commons