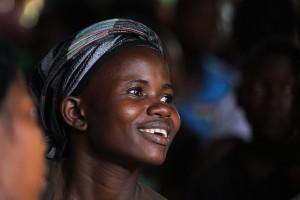 The government of Burkina Faso's new three-year costed implementation plan for family planning increased activities dedicated to adolescents and young people to 30% of all outlined activities—compared to the 14% of activities in the 2013-2015 plan. This significant increase means that Burkina Faso is aiming well beyond the target set by the Youth Think Tank of the Ouagadougou Partnership in 2017: for 15% of activities to focus on youth.
Sixty-seven percent of the Burkinabe population is under 25 years of age, and 15% of young girls have their first child between 15 and 19. Contraceptive use remains low among them at a little over 10% for those between 15 and 19.[1]  Young people need access to information, supplies, and services that will allow them to take full control of their sexual lives—the new plan incorporates services, education programs, and more dedicated funds to fulfilling this.
In April 2016, the Burkinabe Opportunity Fund grantee and civil society organization SOS Jeunesse et Défis (SOS-JD) seized the evaluation of the 2013-2015 national costed implementation plan and the development of the 2017-2020 plan as an opportunity to advocate for the meaningful participation of youth.
The Opportunity Fund, managed by PAI with funding from Advance Family Planning (AFP), is a small grants program that helps advocates seize opportunities to accelerate Family Planning 2020's success at district, state, national, and regional levels. AFP local partner in Burkina Faso, Equilibres & Populations, and Alliance Droits et Santé, alsosupported SOS-JD during the advocacy process.
In evaluating the 2013-2015 plan, SOS-JD highlighted shortcomings with respect to youth and adolescents. Simultaneously, they coached a small group of youth in April to deepen their understanding of the issues and to participate meaningfully in the costed implementation plan process.
As a result of the young people's valuable contributions with support from SOS-JD, they were invited to participate in the development of the 2017-2020 plan. They consistently drew attention to the need for youth and adolescents to be taken into account as the plan was drafted.
SOS-JD is currently collaborating with AFP partner Palladium to document this effective advocacy approach so it can be broadly disseminated by the Ouagadougou Partnership, with the hope that other countries will be inspired by the success.
Evidence to Action presented an analysis on the increase of youth and adolescent focused family planning activities in the new costed implementation plan at an Adolescent and Youth Sexual and Reproductive Health regional meeting in Ouagadougou in May 2017. Until now, Burkinabe young people had not been adequately represented in their country's family planning plans. [2] The increase in activities sets a precedent for future national strategies to focus on youth and have the necessary funding.
SOS-JD will continue engaging with young people to ensure that youth activities are funded and implemented and that the next generation of family planning leaders is groomed. 
[1] Enquête Module Démographique INSD (Institut National de la Statistique et de la Démographie) 2015 du Burkina Faso, chiffres utilisés par les ministères
[2] http://pai.org/wp-content/uploads/2016/01/The-Road-Ahead-Lou-Web-Friendly-Version.pdf
Source
Photo courtesy of Flickr Creative Commons by Steve Evans