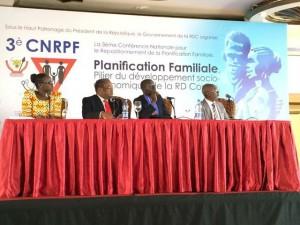 By Harshi Hettige, Communications Specialist
January 29, 2015
Launching Family Planning Implementation at the Provincial Level
The government of the Democratic Republic of the Congo (DRC) released official recommendations from the Third National Conference on Repositioning Family Planning held in Kinshasa last month. The recommended action-oriented objectives, developed by conference participants, continue family planning progress made at the national level and, for the first time, lay groundwork for significantly strengthening efforts at the sub-national level.  
The recommendations come on the heels of several solid milestones since the country's Family Planning 2020 commitment made in November 2013 at the Third International Conference on Family Planning in Addis Ababa: first, validating the 2014-2020 National Strategic Plan for Family Planning in February 2014, releasing an accompanying Implementation Plan, then garnering support at the third national conference on family planning, and now producing timely recommendations for action.
The first recommendation aligns with AFP and its DRC partner Tulane University's 2015 advocacy objective to translate national political commitments to policy and implementation at lower levels of government. The national conference recommendation outlines steps to "obtain the effective commitment of the government in favor of family planning," including moves to:
Implement Permanent Multi-sectorial Technical Committees (CTMPs) for family planning with operational responsibilities in each province and
Develop the provincial implementation plans of the national strategic plan.   
As family planning implementation at the provincial level is one of AFP's top advocacy priorities, AFP facilitated discussions at the national conference and is leading a collaborative effort of national and provincial leaders and donors to launch the CTMP implementation in three initial provinces: Bas Congo, Katanga, and Kinshasa.  
The national CTMP, a multi-sectorial committee comprised of government, civil society, and faith-based organization leaders, has been a strong driver of family planning support. Founded at the second national conference on family planning in 2009 and operational in 2012, the CTMP has served as technical family planning experts equipped to undertake advocacy efforts. The national CTMP and stakeholders are hoping for the same outcome from provincial CTMPs at the subnational level.
Renewing Momentum at the Third National Conference
The Third National Conference on Repositioning Family Planning in Kinshasa (December 3-5, 2014) sought to gain and sustain support for the National Family Planning Strategic Plan from a broader constituency within the health and development sector. Special effort was made to engage youth and incorporate religious perspectives. Of approximately 450 participants including government leaders, donors, and international and national implementing partners, 20% were young people (under age 30). The plenaries on each of the three days focused on the demographic dividend, youth, and private sector investment (including religious institutions) respectively.
With AFP's support, the National Reproductive Health Program (PNSR) organized several technical sessions on December 1-2 to introduce Sayana Press® —a new sub-cutaneous delivery mechanism for the contraceptive DMPA— to doctors, nurses, and midwives from across the DRC prior to the conference.
Additionally, with subnational advocacy priorities in mind, AFP organized two SMART facilitations on December 3-4 with representatives of the 11 provinces of the DRC present at the conference. Health Ministers and Medical Inspectors from Kinshasa, Bandundu, Equateur, Kasai Occidental, and Kasai Oriental convened for the first day. The following day representatives from Bas Congo, Province Orientale, Nord Kivu, Sud Kivu, Maniema, and Katanga met. Both facilitations included lively discussions about factors for consideration in establishing an operational CTMP in each province and when it could be realistically achieved.
Provincial ministry representatives agreed that establishing provincial CTMPs would be an important step in implementing the National Strategic Plan.
View the complete set of conference recommendations below.
To support sub-objective 1[1]: Obtain the effective commitment of the government in favor of family planning
Accelerate the adoption of the Reproductive Health/Family Planning law;
Develop an advocacy strategy to pass a significant budget and fund family planning services; 
Accelerate the signing of the Decree that will make the creation and functioning of the Permanent Multi-sectorial Technical Committees (CTMPs) official, and that will also include the legal status of provincial CTMPs;
Implement CTMPs for family planning with operational responsibilities in each province; and
Develop the provincial implementation plans of the strategic plan. 
To support sub-objective 2: Increase men and women's access to family planning in the public and private sectors. 
Reinforce community-based distribution programs in universities, higher education institutes and professional training centers;
Integrate family planning to other basic social and community services;
Promote the implementation of family planning activities in the private sector (corporations);
For young people and adolescents: Support the implementation of youth centers for sexual and reproductive health with social and community structures (parishes, churches, NGOs, associations, clubs, health structures); and
Mobilize partners in the development sector to include family planning funding in their intervention policies.
In support of sub-objective 4: Stimulate demand for family planning
Each year, organize a one-month long family planning campaign in each province;
Develop a mass campaign to promote family planning services and products using vaccination and impregnated mosquito nets campaigns;
Make family planning mandatory in primary and secondary school programs;
Develop strategies to involve men in family planning activities;  and
For young people and adolescents: Strengthen the integration of information and support programs for young people and adolescents in the primary and secondary education system, as well as in higher education institutes and universities.
In support of sub-objective 5: Develop and reinforce an efficient logistics system for contraceptive supplies
Strengthen contraceptive security at the national and provincial level;
Implement a user-friendly information system on contraceptive logistics between all partners involved in the purchase and distribution of products through programs; and
Build capacities in all aspects of the contraceptive logistics system at the central and provincial levels.
In support of sub-objective 6: Implement a reliable system to monitor and evaluate results
Strengthen the structures that collect, analyze and use family planning data (inputs, processes, products, results and impacts) using a multi-sectorial approach; and
Integrate new technologies by using mobile phones to collect data.
[1] Sub-objectives here refer to the 2014-2020 National Strategic Plan for Family Planning.