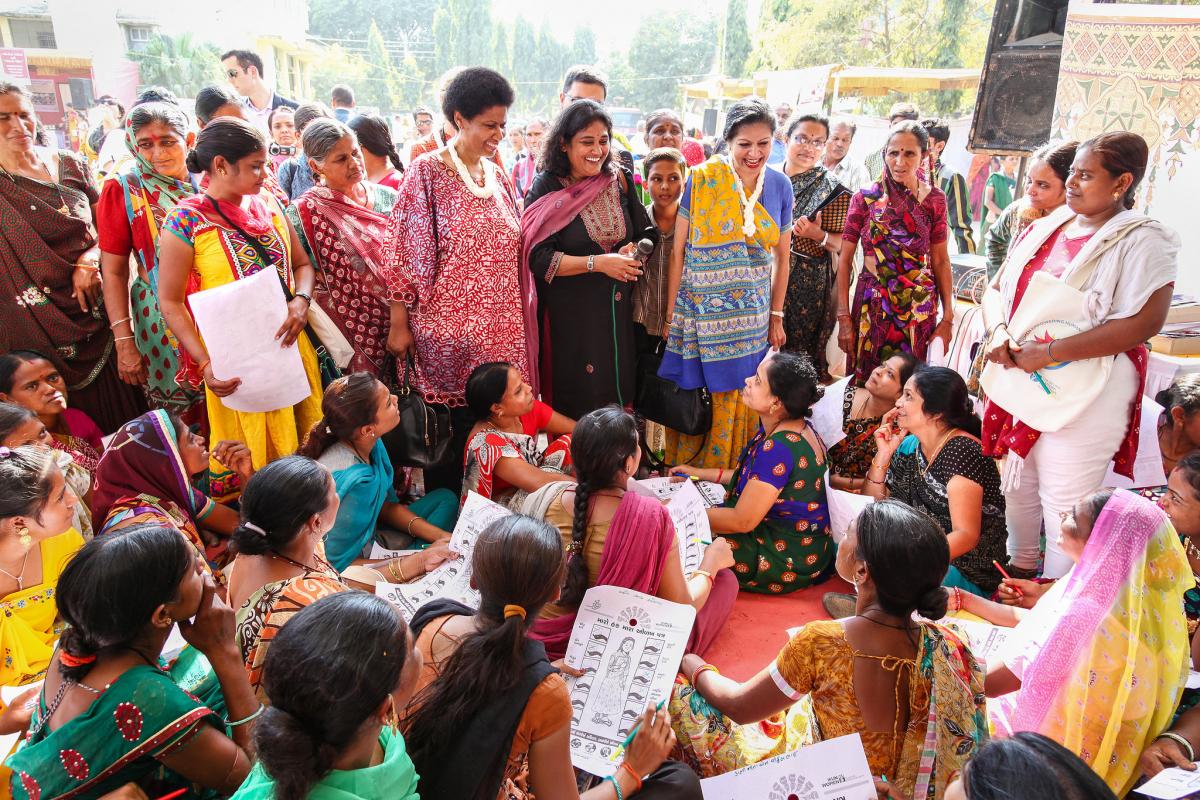 As of July 2017, five districts in India's Rajasthan state formed and operationalized working groups. All five groups, one established as an advocacy working group and the other four initially formed as District Project Implementation Bodies, are successfully advocating for family planning progress in their districts.
The four working groups formed as District Project Implementation Bodies (DPIBs), were created to carry out Mission Parivar Vikas—a National Health Mission family planning initiative. Mission Parivar Vikas aims to introduce modern contraceptive methods such as injectables and birth control pills in select districts, identify current programmatic and technical issues, and provide strategic direction to address them and improve the quality of services through periodic review meetings. The initiative guidelines mandated that high-priority districts (Baran, Pali, Sawai Madhopur, and Sirohi) form DPIBs.
Several of the districts had not yet followed through on creating DPIBs or gathering a diverse representation of stakeholders. Advance Family Planning local partner Pathfinder International India saw this as a missed opportunity for strategic multi-sectoral advocacy. They realized that instead of duplicating efforts with the creation of new advocacy working groups, DPIBs in these districts could integrate the AFP SMART advocacy approach to build the capacity of local health systems.  In February 2017 Pathfinder began working to facilitate the constitution of DPIBs and ensure that key stakeholders were represented.
Each DPIB is chaired by a District Collector and comprises government representatives from the health, social welfare, and rural development departments. Pathfinder advocated with district officials so that development partners could also join to enhance coordination and strengthen family planning programs. Now civil society members from EngenderHealth, Foundation for Reproductive Health Services India, UNFPA, and others actively participate in the DPIBs.
Pathfinder facilitates bi-monthly meetings in all the project districts, with the expectation that health department officials will increasingly take over the role of convening the DPIB meetings. They initiated district-level AFP SMART facilitations to develop roadmaps for each district's family planning priorities. The department of health will use the SMART outcomes to guide future DPIB meetings. 
Currently, the DPIBs are working to train service providers, initiate demand generation activities, improve commodity distribution, develop reporting structures, and organize innovative events to mobilize populations to discuss family planning issues—all at the community level.
Meanwhile, the district of Bhilwara formed an advocacy working group, and has already achieved promising results since its formation in June. Comprised of government and civil society members similar to the other four DPIBs, the working group collaborated with the government and private stakeholders to introduce DMPA-IM into the district's public health facilities in late May 2017. Pathfinder led the advocacy, while the working group members led service provider training, injectables and supplies distribution, reporting structure development, and the official launch ceremony logistics.
In 2018, Pathfinder will monitor whether all five district departments of health are holding regular working group meetings and implementing objectives to improve the quality of family planning services.
Source
Photo Courtesy of Flickr Creative Commons by UN Women