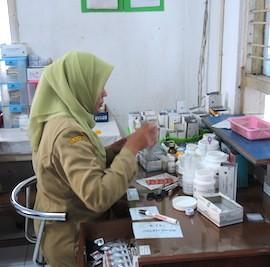 In September, the Family Planning 2020 (FP2020) partnership's Rapid Response Mechanism awarded US $75,000 to Advance Family Planning local partner Yayasan Cipta Cara Padu Indonesia (YCCP). The award will support YCCP in engaging local leaders to implement the government's "Kampung KB" program.  

Kampung KB is a comprehensive, national initiative to improve the quality of life and well-being of underprivileged families by revitalizing family planning programs.Launched by presidential decree in January 2016, the program is intended to help the government achieve its FP2020 commitment. The National Population and Family Planning Board of Indonesia (BKKBN) is providing a stimulant fund for Kampung KB, which district and village governments are expected to match.

Yayasan Cipta Cara Padu will build the capacity of district and village governments in six districts to use AFP SMART to advocate for matching village funds to improve access to local family planning information and services. The districts selected for support are Kediri, Lumajang, and Tuban in East Java province and East Lombok, Sumbawa, and West Lombok in West Nusa Tenggara province.

Currently, Kampung KB has been launched in one hamlet (sub-village) in each district in Indonesia. It is expected that by the end of 2017, district governments will scale up to at least one hamlet in each sub-district. YCCP's award will help facilitate this scale-up process in its implementation districts.

By the end of the project in September 2017, the six implementation districts are expected to form or revitalize Kampung KB teams to promote family planning and family welfare in 121 hamlets (one hamlet in each sub-district). They are also expected to make budget allocations for family planning in their 2017 village budgets. In the long-term, BKKBN at the district level will take ownership and commit to scaling Kampung KB across all villages in the six districts.

This village budget advocacy approach was initially applied with success through Improving Contraceptive Method Mix—a project funded by the U.S. Agency for International Development and Australian Department of Foreign Affairs and Trade through lead partner Johns Hopkins Center for Communication Programs. The RRM award will allow YCCP to adapt and build on this success.
 
Source
Photo courtesy of AFP, Sarah Whitmarsh