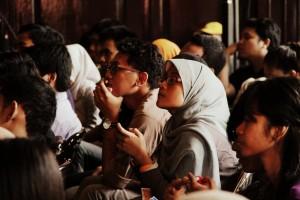 In July, Family Planning 2020 awarded Advance Family Planning partner Yayasan Cipta Cara Padu Foundation a Rapid Response Mechanism (RRM) grant to support the KB Kencana national family planning revitalization program in Indonesia. The grant will fund advocacy efforts in 8 districts in 4 provinces with some of the greatest family planning needs in the country: East Java, South Sulawesi, Maluku, and Papua.
The RRM-supported effort will build on the Government of Indonesia's commitment to reinvigorate its family planning program throughout the country. In 2013, Indonesia's National Population and Family Planning Board (BKKBN) made a two-phase,US $4.75 million investment (60 billion Indonesian Rupiah) in KB Kencana. The KB Kencana program has been implemented in 8 pilot provinces and 98 districts. Through its local partners, YCCP and Johns Hopkins Center for Communication Programs Indonesia, AFP has supported KB Kencana by providing technical assistance to provincial and district-level BKKBN offices and other family planning-related government and non-governmental organizations.
The coalition of partners will use the RRM grant as supplemental support to improve district-level capacity to advocate for family planning resources and address key policy barriers that restrict access to quality family services. With increased funds for family planning, districts will be able to strengthen their local family planning program and improve access to quality family planning services and supplies.
YCCP will support advocacy efforts in 8 districts: Nganjuk and Madiun (East Java), Bulukumba and Gowa (South Sulawesi), Ambon and Tual (Maluku) and Jayapura and Merauke (Papua). By November 2015, the 8 facilitated districts are expected to form a district working group, create a tailored advocacy workplan that responds to district-specific needs and priorities, and submit family planning budget requests for the 2015-2016 financial year.
In the long-term, BKKBN will lead this effort, national and province advocacy units will take on increasing advocacy technical skills-building, and  district working groups will draw on community stakeholders to implement activities.
The Rapid Response Mechanismsupports projects that respond to emerging and urgent opportunities that will help FP2020 meet its goal of enabling 120 million more women and girls to use contraceptives by 2020.
Source
Photo courtesy of Flickr Creative Commons by mshwaiko