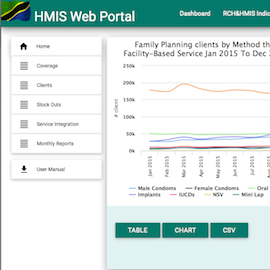 May 25, 2016
This month the Tanzanian government launched an online National Family Planning Dashboard that provides data on service delivery and human resources. The district health commodity data will be pulled directly from DHIS-2 once a month, giving decision-makers evidence for improving reproductive health services.
The Dashboard is part of the Health Management Information System web portal of the Ministry of Health, Community Development, Gender, Elderly and Children. Before it was created, family planning actors faced barriers in accessing such information.
This easy-to-use platform identifies family planning gaps at facility, district, and regional levels. It produces information on family planning coverage, clients, stock levels, and integrated services (post-abortion and miscarriage care, HIV testing and counseling, and post-partum care).
The Dashboard is primarily intended for government and partner program managers to act effectively. Dashboard users, including advocates, can now generate reports highlighting the family planning situation at different levels­ and underscore areas that need intervention.