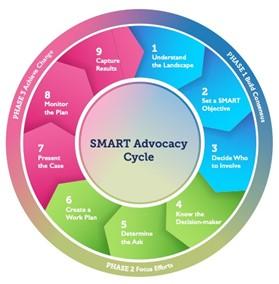 This article is a collaboration with Knowledge SUCCESS. SMART Advocacy is a collaborative process that brings together advocates and allies from different backgrounds to create change and sustain progress. Read on for tips and tricks to tackle your own advocacy challenges.
Is there a change you want to see in the world? Have you considered that there might be one person with the power to create that change? Or wondered what you would say to persuade them to act?
This is the power of SMART Advocacy, a disciplined and proven approach that identifies key opportunities, changemakers, and arguments to achieve the change you want to see. From ensuring regular trash pickup in your community to convincing world leaders to allocate funding for universal health care, no issue is too big or too small to be tackled by SMART Advocacy.
You may be familiar with making specific, measurable, attainable, relevant, and time-bound (SMART) goals and objectives. SMART Advocacy applies those principles to change-making by providing a practical approach focused on short timeframes and step-by-step actions to reach a bigger goal. The approach is adaptable, highly context-sensitive, and able to address issues on local, national, and international stages. By design, it is a collaborative process that brings together advocates and allies from different backgrounds to create change and sustain progress.
To embark on your SMART Advocacy journey, check out our quick start guide below:
Learn more about SMART Advocacy. Visit SMARTAdvocacy.org to get oriented with our quick overview video (2 minutes) or launch webinar (90 minutes). These videos tell you more about SMART Advocacy and its well-established record of success. Hear from advocates who have been using SMART Advocacy to improve policies and increase funding for family planning and other issues.
Download the SMART Advocacy User's Guide and resources.

The SMART Advocacy User's Guide is designed to walk you through the nine-step process on your own or with a working group. As an editable PDF, the tool guides you through each step. Easy-to-follow exercises focus your thinking and capture key information to build your advocacy strategy.
The website also contains a user worksheet and facilitation PowerPoint. With the user worksheet, you build your SMART Advocacy strategy in a Word document for easy sharing. The facilitation PowerPoint enables you to lead a group through the process. It includes tips for challenging steps and making exercises engaging and interactive for either an in-person or virtual collaboration environment.

Convene a small group of like-minded supporters and get to work! Although it can also be used by larger coalitions or on your own, SMART Advocacy is best applied with a small group of committed individuals, usually 10–15 people. If you make choices through each step and complete the exercises as a team, you will reach consensus on a goal, SMART objective, decision-maker, advocacy ask, and activities. You will also have a communication and monitoring plan which is essential to lasting change.
Adapt the approach to your needs. Do you want agreement on the best advocacy opportunities for your issue and which opportunity you should tackle first? Start with steps 1–3. Need a fully fleshed out, evidence-based advocacy strategy and work plan? Focus on completing steps 1–6. Want to incorporate a communication, monitoring, and learning plan along with your strategy? Plan to complete all nine steps. Whichever option you choose, SMART Advocacy can meet your needs.
Seek those with more experience. As you develop and implement your advocacy work plan, you may find that your group would benefit from a consultation with a more experienced SMART Advocate. The Find a SMART Advocate resource on our website enables you to locate and reach out to SMART Advocates near you.
Build on our experience and be a part of our community. The SMART Advocacy guide will help you achieve the change you want to see. To stay connected and receive more tips and tricks, join the SMART Advocacy listserv.