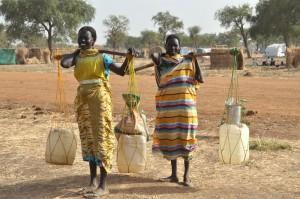 On February 8, 2017, Imotong State of South Sudan formally designated 1.5 million SSP (approximately USD $21,000) to their first budget allocation for family planning services. The new allocation is a result of a resolution passed in September by the state's legislative assembly to increase funding for family planning by establishing a dedicated budget.
Impact Health Organization (IHO), a local civil society organization and Opportunity Fund recipient, advocated for the resolution's passage. The Opportunity Fund, managed by PAI with funding from AFP, is a small grants program that helps advocates seize opportunities to accelerate Family Planning 2020's success at district, state, national, and regional levels. IHO worked in close collaboration with policymakers at state and national levels and UNFPA.
Their advocacy received strong support from the State Minister of Health, a physician, who also serves as Imotong State's Deputy Governor. While engaging with the Ministry of Finance and other key leaders in the assembly, IHO was also aided by the Ministry of Health Director General for Reproductive Health. The Director General opened doors and became a key ally in their advocacy strategy success. IHO also met with traditional chiefs, religious leaders, and local civil society organizations representing women and youth to cultivate their support for family planning as central to Imotong State's economic and social development.
The Ministry of Health identified the following priorities for the new budget:
Training health care workers in the full family planning method mix;
Training community health workers in family planning counseling and referrals, as well as provision of short term methods;
Generating demand for contraception among adolescents, rural populations, and urban poor by providing accurate sexual and reproductive health and rights information and informing where to access services; and
Distributing contraceptives through a strengthened logistics management system.
Following the budget allocation, UNFPA has committed to procuring and transporting contraceptive supplies and providing technical expertise for the training of health care workers. Next steps for IHO include collaborating with Imotong State government and UNFPA to develop a costed family planning implementation plan and to secure additional resources to implement it.
South Sudan is a Family Planning 2020 focus country facing significant political challenges. The Opportunity Fund award to IHO entailed more risk than any other awards because of ongoing instability at national level. Yet this experience reminds that not only are family planning advocacy wins possible at the subnational level, but also that they lay the groundwork for sustained family planning efforts where it matters by implementing existing national policy.
Source
Photo courtesy of Flickr Creative Commons by Oxfam International