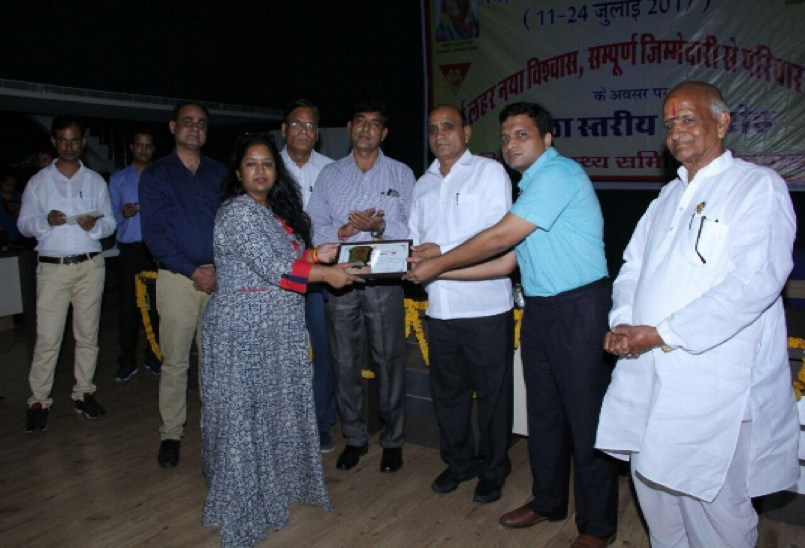 In July, the government of Bhilwara district in Rajasthan formally acknowledged Advance Family Planning local partner Pathfinder International India for their contribution towards improving family planning services in the area. Their advocacy led to Bhilwara becoming the first district in Rajasthan state to launch injectable contraceptives in the public health system.
To achieve this, Pathfinder advocated with National Health Mission state officials in Rajasthan to allocate additional funds in Bhilwara district for training service providers on injectable contraceptives. Their advocacy led to a 1.12 million rupee (US $17,514) increase in the district health budget allocation for family planning service provider training. Pathfinder's strategic facilitation of public, private, and non-profit partners was crucial for the launch of injectable contraceptive provision on May 27, 2017.  
In July, Bhilwara district established two dedicated family planning counselling corners at public health facilities following advocacy from the local working group that Pathfinder supports. Pathfinder worked with the health facilities to identify a space to maintain clients' audio and visual privacy, choose family planning counselors from existing staff, display appropriate information, education, and communication materials, and develop reporting structures.
Mr. Muktanand Agarwal, Bhilwara District Collector, recognized Pathfinder's advocacy at a ceremony organized by the district administration to commemorate World Population Day on July 21, 2017. Over 500 people attended, including local government representatives, officials across government departments, civil society partners, and health providers.
Pathfinder will continue to advocate for family planning progress in the Bhilwara district and its state of Rajasthan. Specifically, Pathfinder will work alongside district working groups to advocate for monitoring services provided at the new counseling corners.
Source
Photo courtesy of Pathfinder India