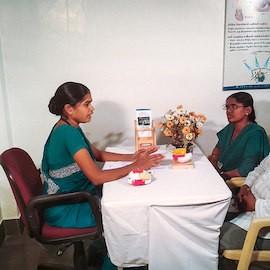 For the first time in Jharkhand state, two districts established family planning counseling corners at 13 community health centers. Established between January and March in Bokaro and Ranchi districts, the counseling corners are dedicated spaces for a skilled provider to provide quality family planning counseling to clients.
The corners are equipped with communications materials and commodities such as condoms, oral contraceptives, and emergency contraceptive pills. Ranchi district's nine new counseling corners and Bokaro's five, cater to a local population of 2.2 million and 1.9 million people, respectively.
Strong advocacy led Jharkhand state government and its district governments to take steps to improve  quality of family planning services. Advance Family Planning (AFP) local partner Jhpiego India first conducted an AFP SMART facilitation in August through September 2016, during  which  Ranchi and Bokaro district working groups identified several issues affecting quality in family planning services. They prioritized improving counseling.
Jhpiego worked closely with state and district working groups, comprised of district health officials (specifically the Assistant Chief Medical Officers), to establish family planning counseling corners and train providers. At a state working group meeting, Jhpiego advocated with the state family planning cell to train auxiliary nurse midwives in Bokaro and Ranchi on counselling. As a result, the state family planning cell issued a directive on December 13, 2016, to train auxiliary nurse midwives and staff nurses across all 24 districts in Jharkhand state.
Jhpiego and other family planning partners subsequently trained 66 auxiliary nurse midwives and staff nurses between December 19, 2016 and January 18, 2017. The training emphasized ensuring privacy, accurate messaging for clients, advantages and disadvantages of contraceptive methods, newer methods available in the government's family planning program, the importance of consent, and using information, education, and communication and behavior change communication materials. Of the 66 trained, 57 midwives are currently providing family planning counseling at different health care facilities—8 in Bokaro and Ranchi alone.
Bokaro and Ranchi district health societies are ensuring that the counseling corners are safe and private for clients to freely discuss and choose their desired family planning method.
Since the counseling corners' establishment, providers are seeing the benefits. Staff Nurse Nirmala Khalkho from Silli community health center in Ranchi district noted, "Privacy is extremely important during family planning counseling sessions. Women here tend to feel shy while choosing a family planning method. The counseling corner provides a women and her husband with a safe and private space where they can freely discuss their concerns with me. I am able to counsel them properly describing all the advantages and disadvantages of each method, which helps them make an informed decision."
Next, Jhpiego and the state working group will advocate for the establishment of family planning counseling corners and training additional providers to cover all community health centers in Jharkand's 24 districts.
Source
Photo courtesy of Flickr Creative Commons by Community Eye Health Related Page: India