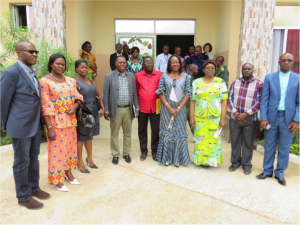 On March 2, 2016 the Kongo-Central province of the Democratic Republic of Congo established a Provincial Permanent Technical Multi-sectoral Committee on Family Planning (CTMPP). The committee is comprised of local government, civil society, and faith-based organization leaders. Kongo-Central is the fourth province in the country to establish a CTMPP. Following the lead of the National CTMP, each works to be a strong driver of family planning advocacy in their province.

The Kongo-Central CTMPP aims to advocate for and mobilize more partners in family planning. It is coordinated by DKT and assisted by Sante Rural (SANRU) and Association de Bien Etre Familial-Naissances Desirables (ABEF-ND). DKT is the only international service provider delivering family planning services in the provincial capital of Matadi. The CTMPP Secretariat is led by the Provincial Division of Health - Reproductive Health/Family Planning and assisted by the Divisions of Plan and Women, Families and Children.

The launch, supported by AFP/Tulane International, was attended by the Minister of Health, the National Director of the Program for Reproductive Health, medical chiefs, and representatives from ABEF-ND, DKT, SANRU and UNICEF. His Excellence the Governor of the Kongo-Central Province and the Provincial Minister of Health, Social Affairs and Humanitarian Actions inaugurated the new CTMPP.

The day before the launch, the Committee visited political, administrative, and health authorities, as well as Matadi-based non-governmental organizations. To raise awareness of the CTMPP, they highlighted the importance of the multi-sectoral committee, the achievements, operations, and challenges.

The new CTMPP is organizing an advocacy facilitation using the AFP SMART approach and plan to hold two workshops: one on budgeting and quantification of contraceptive needs and another on mapping interventions for the province.
La province du Kongo-Central en RDC établit un groupe de plaidoyer multisectoriel pour la planification familiale
 
Le 2 mars 2016, la province du Kongo-Central de la République Démocratique du Congo a établi un Comité Technique Multisectoriel Permanent Provincial sur la Planification Familiale (CTMPP). Le comité est composé de dirigeants du gouvernement local, de la société civile, et des organisations confessionnelles. Le Kong-Central est la quatrième province du pays à établir un CTMPP. En suivant l'exemple du CTMP national, chaque CTMPP doit servir de moteur au plaidoyer pour la planification familiale dans leurs provinces respectives.

Le CTMPP du Kongo-Central vise à plaider et mobiliser plus de partenaires dans le domaine de la planification familiale. Il est coordonné par DKT et secondé par Santé Rurale (SANRU) et l'Association de Bien-Être Familial-Naissances Désirables (ABEF-ND). DKT est le seul prestataire de services international de la planification familiale dans la capitale de la province, Matadi. Le Secrétariat du CTMPP est dirigé par la Division Provinciale de la Santé – Bureau Santé de la Reproduction/Planification Familiale, et secondé par la Division Provinciale du Ministère du Plan et la Division des Femmes, des Familles et des Enfants.

La cérémonie de lancement, soutenue par AFP/Tulane International, a rassemblé le Ministre de la Santé, la Directrice Nationale du Programme de Santé de la Reproduction (PNSR), des médecins chefs, et des représentants d'ABEF-ND, DKT, SANRU et de l'UNICEF. Son Excellence Monsieur le Gouverneur de la Province du Kongo-Central et Madame le Ministre Provincial de la Santé, des Affaires Sociales et des Actions Humanitaires ont inauguré le nouveau CTMPP.

Le jour précédent, le Comité avait rendu visite aux autorités politiques, administratives et sanitaires locales, ainsi qu'à des organisations non gouvernementales basées à Matadi. Pour les sensibiliser sur le CTMPP, l'importance du comité multisectoriel, ses accomplissements, son fonctionnement et ses défis avaient été soulignés.

Le nouveau CTMPP prépare actuellement une session de plaidoyer utilisant l'approche AFP SMART, et prévoit d'organiser deux ateliers : le premier sur la budgétisation et quantification des besoins de contraception, le second sur la cartographie des interventions dans la province.
Source
Photo courtesy of Tulane International