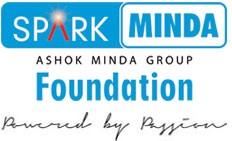 In February 2017, Spark Minda, one of India¹s leading manufacturers of automobile components, incorporated family planning into its corporate social responsibility program for the first time. As part of an agreement to improve awareness and generate demand for family planning, Spark Minda allocated 402,500 Indian rupees (US $6,015) for conducting sensitization workshops on family planning and reproductive health.
Sensitization workshops inform participants about family planning method choices, their effectiveness, and the myths and misconceptions related to each method. The Spark Minda-covered workshops will engage 1,000 people (500 women and 500 men) from the communities surrounding the corporation¹s manufacturing units and vocational training centers in the states of Maharashtra, Tamil Nadu, Uttarakhand, and Uttar Pradesh. Participants will also learn about the nearest public health facilities offering family planning services.
Spark Minda and Advance Family Planning local partner Pathfinder India signed the agreement on February 8, 2017, with the support of Mr. Praveen Karn, Group Head of corporate social responsibility at Spark Minda Group. Pathfinder India¹s advocacy highlighted family planning as a significant contributor to socio-economic development, particularly for India¹s underprivileged populations.  
Mrs. Sarika Minda, Chairperson of the Spark Minda Foundation, noted after the new agreement that in most of the communities, family planning is taboo, and a neglected subject­­however, it has a serious impact on a woman¹s life. She added that the sensitization of communities around hygiene, management of their bodies, and reproductive health will help to address this gap and draw the connection between the adoption of family planning practices and its impact on their health and livelihoods.
Next, Pathfinder India will conduct the sensitization workshops. At the end of these workshops, high performing participants who demonstrate good working knowledge of family planning through community sensitization will be identified as champions for future engagement with the Spark Minda corporate social responsibility program.
Pathfinder India will continue to engage with the corporation for a long-term commitment and larger investments in family planning.