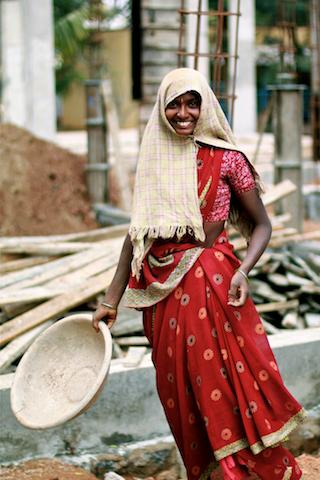 Two major corporations in India are prioritizing family planning investment in their social action policies— a result of sustained advocacy by Advance Family Planning local partner Pathfinder International India.
Ambuja Cements Limited, India's leading cement company, included family planning in its three-year (2017-2020) health action plan for the Ambuja Cement Foundation.  This advocacy win is a follow-up to the company's commitment in September 2016 to include family planning in its corporate social responsibility (CSR) portfolio. As part of the original commitment, the company's foundation, with support of Pathfinder, conducted a family planning counseling training in October for 23 community health workers around the Ambuja Cement factory site in Himachal Pradesh state.
Soon after, in November 2016, the company's board approved the CSR team's proposal to include family planning into their three-year health action plan. With the action plan in place, Pathfinder is now advocating for scaling up of family planning counseling intervention to Ambuja Cement's four other factory locations in Gujarat, Maharashtra, Punjab, and West Bengal states. The intervention would include training an additional 80 community health workers, each of whom serves approximately 500 people at the community level. Pathfinder aims to work with Ambuja Cement to eventually make family planning counseling available for communities in all seven states in which the company operates.
***
The Transport Corporation of India (TCI), a leading government-owned logistics company, included family planning into its CSR policy for the first time. TCI's board approved the addition in May 2017, after almost a year of advocacy from Pathfinder. 
Incorporating family planning into their CSR policy shows the company's interest in improving comprehensive primary health care for employees and their families—a shift from their previous CSR investments in one disease area only. 
TCI has 23 HIV/AIDS community clinics spread across 12 states in India, which offer counseling and other health services to approximately 15,000 beneficiaries per month. Going forward, based on discussions with TCI, Pathfinder will provide technical support for training TCI Foundation employees on family planning methods and services, as well as maternal, child, and adolescent health services. These core team members will in turn train their clinic staff, and guide them in integrating and implementing family planning counseling at the community level. 
Pathfinder India will continue to advocate with TCI's CSR board to scale up and make larger investments in family planning services in the future.
Source
Photo courtesy of Flickr Creative Commons by Pepe Pont