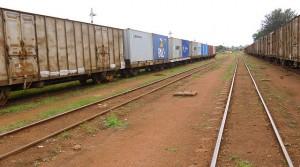 The Government of Uganda, through the Ministry of Health, signed a memorandum of understanding (MOU) with the Uganda Health Marketing Group (UHMG) on January 30, 2015 to implement an alternative distribution strategy. The strategy is designed to improve the handling, storage, and distribution of family planning commodities to the private sector over the next five years.
 
"Signing the MOU guarantees the future of the alternative distribution channel and its benefits of scaling up access to family planning commodities," says Jackson Chekweko, chairperson of the Uganda Family Planning Consortium (UFPC) and Executive Director of Reproductive Health Uganda, Advance Family Planning's local coordinating partner.
 
The MOU is a critical step in improving contraceptive access at private-sector health facilities and overcoming barriers to obtaining family planning commodities. Private-sector facilities provide 60% of contraceptive services in Uganda.
 
UHMG was appointed by the government of Uganda to manage access to family planning and other reproductive health supplies for the private sector in 2012. Last year, to formalize this role and ensure continuity for the alternative distribution strategy, AFP partner, Partners in Population and Development Africa Regional Office; UFPC members; and UNFPA advocated to establish an MOU.
 
The UFPC comprises Reproductive Health Uganda, Marie Stopes Uganda, Programme for Accessible Health Communication and Education, FHI360, Pathfinder International, and UHMG.
Source
Photo courtesy of Flickr Creative Commons by US Army Africa