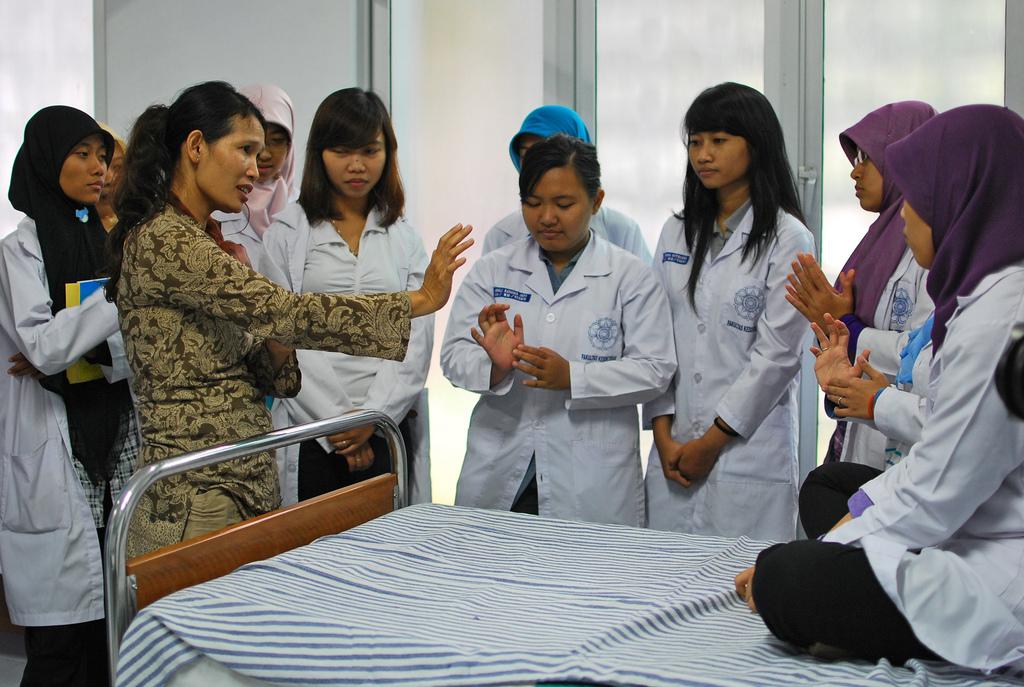 In November 2017, four key health organizations in Indonesia issued a joint letter resolving a major training and certification barrier for midwives' provision of intrauterine devices (IUD) and implants. The agreement stipulates that trained midwives who provided three implant insertions and three IUDs insertions in the last year (verified by their local-level National Clinical Training Network) will be awarded a certificate of competence.
The initiative to train and certify midwives originated in 2010. The National Population and Family Planning Board (BKKBN) undertook a nationwide program aimed to boost the uptake of long-acting and reversible contraceptive (LARC) methods by enabling more midwives to offer the services. Over the next six years, backed by BKKBN, the National Clinical Training Network (JNPK) trained approximately 48,000 midwives in IUD and implant insertion.
However, due to a lack of coordination, many midwives did not obtain the certificate of competence after their training. JNPK required each training participant to insert five implants and five IUDs, observed by a provincial or district level JNPK staff, in order to obtain the certificate. BKKBN increased this threshold, hoping that requiring 10 insertions per midwife would encourage increased contraceptive uptake. Instead, many of the training participants had difficulty in finding enough clients to complete the certificate requirements. Moreover, many of the trained midwives did not receive IUD insertion kits from BKKBN to provide the services.
Without the certificate, many of the midwives who went through the training were reluctant to offer implant and IUD services. When the National Health Insurance Scheme JKN launched in 2014, new regulations meant that providers could only be reimbursed for services if they had the certificate of competence.
In light of these challenges, the results of the training initiative fell short of expectations. Although there was an increase in the use of implants (3.3% in 2012[1] to 8.9% in 2016[2])  and IUDs (3.9% in 2012[3] to 7.5% in 2016[4]) among contraceptive users, it was difficult to tell whether this was an effect of BKKBN's efforts since they did not track the number of midwives who provided services after their training.
Advance Family Planning local partner Johns Hopkins Center for Communication Programs (CCP) Indonesia started advocating for a solution in mid-2016, aware that these challenges concerned many stakeholders. Four professional organizations are responsible for the overall management of midwife-provided implant and IUD services: the Indonesian Medical Association, the Indonesian Midwives Association, the Indonesian Gynecology and Obstetrics Organization (POGI), and JNPK. CCP facilitated meetings where the chairs of the organizations, the Ministry of Health, and BKKBN engaged in intensive communication to discuss the technical aspects of an agreement.
The process of the four organizations analyzing the barriers to and needs for the certificate of competence, revising a draft letter of agreement, overcoming political hurdles, and coming to a joint agreement took over a year. During that time, CCP and BKKBN persistently met with stakeholders, both formally and informally, to obtain feedback of the draft letter and move it forward.
At the end of November 2017, the four organizations issued the letter of agreement which will apply the new requirements to all midwives who have been trained between 2010 and 2016. For midwives who have not yet fulfilled the requirements, a BKKBN-funded refresher course and re-assessment will be implemented. Midwives who have been fully trained will be properly certified and eligible for insurance reimbursement. The joint letter will serve as an implementation guide for future midwife IUD and implant trainings.
Next, BKKBN, the Indonesian Midwives Association, and JNPK will map and accelerate awarding certificates to midwives who fulfill the new agreed-upon requirements.
[1] Indonesia DHS 2012
[2] PMA2016 Round 2
[3] Indonesia DHS 2012
[4] PMA2016 Round 2
Source
Photo Courtesy of Flickr Creative Commons by World Bank Photo Collection