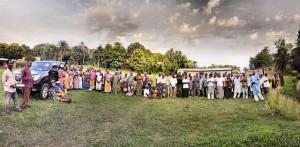 The Government of Togo passed a Community-Based Intervention National Policy (PNIBC) on February 13, 2015 to integrate new maternal and child health high-impact approaches including the distribution of injectables at the community level. The Togolese Association for Family Wellbeing (ATBEF) led advocacy for this achievement with the support of the Opportunity Fund. The Opportunity Fund, managed by PAI with funding from Advance Family Planning, is a small grants program that helps advocates seize opportunities to accelerate Family Planning 2020's success at district, state, national, and regional levels.

The USAID/AWARE II project, initiated in the Haho district in 2011, scaled the distribution of injectables and pills to 11 districts. The project contributed to increasing the country's Couple Years of Protection – a calculation for estimating how much protection from unintended pregnancies that couples have gained by sale or other distribution of various contraceptive methods–to 19% in 2012, from 11% in 2010. Despite the positive results, the approach was only authorized by a memorandum signed by the Ministry of Health for the pilot districts, instead of being integrated into the PNIBC.

Civil society organizations' strong advocacy efforts steered by ATBEF led to health authorities reviewing the PNIBC. The advocacy group planned and executed several activities to forward momentum, including establishing a national coalition of civil society organizations; creating a multisectorial and multidisciplinary committee to review the PNIBC; mobilizing technical and financial partners to support the initiative; organizing preliminary work sessions to review the policy; and validating the new PNIBC at a national workshop gathering political and health authorities, United Nations agencies, civil society organizations, community leaders, community health workers, and representatives of state services working at the community level.

Four key components of the advocacy strategy were essential to this achievement:
ATBEF involved the Ministry of Health from the beginning: the Ministry was the convenor and coordinator of the workshop activities, while ATBEF was in charge of its financial and administrative management.
The creation of a national civil society coalition.
Complete stakeholder participation from both the central and local levels at the workshop, providing an effective outlet for concerns.
The success of the pilot project ensured that the advocacy was based in evidence.
A strategic plan for community-based interventions is currently under development. A workshop to strengthen this plan took place July 14-15, 2015. Health Policy Project (HPP) of AFP partner Futures Group contributed financial support for the workshop. HPP also helped to develop the strategic plan and will support dissemination of the  document. The Government of Togo will be hiring a consultant in August to develop the implementation procedures guide of the national policy. This guide will be validated through a national workshop gathering various community-based intervention stakeholders.
Source
Photo courtesy of Flickr Creative Commons by Lama-bou