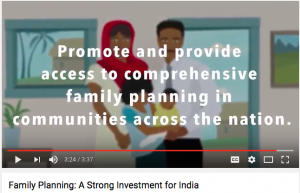 Pathfinder International, in collaboration with Population Reference Bureau and Advance Family Planning, launched a new video this month to encourage national and multinational businesses in India to invest in family planning through their corporate social responsibility (CSR) initiatives.
The four-minute video presents the positive and multi-dimensional impact of family planning interventions on the health and wellbeing of women and children, women¹s empowerment, gender equality, economic prosperity, and reducing the impact on environmental resources‹through the story of one girl, Gita, and her family. The video also discusses different ways corporations can include family planning in their CSR policies to contribute to India¹s goal for the Family Planning 2020 partnership as well as the Sustainable Development Goals.
By law, Indian corporations must allocate 2% of their profits to CSR activities. Family planning advocates are focused on helping unlock these funds for activities that improve access to contraceptive information, services, and supplies.
Pathfinder India has already received positive feedback on the video when it was presented in initial meetings with corporations. The video will be an important tool in increasing commitment, awareness, and investment in family planning for the corporations of India.
Source
Photo courtesy of Population Reference Bureau