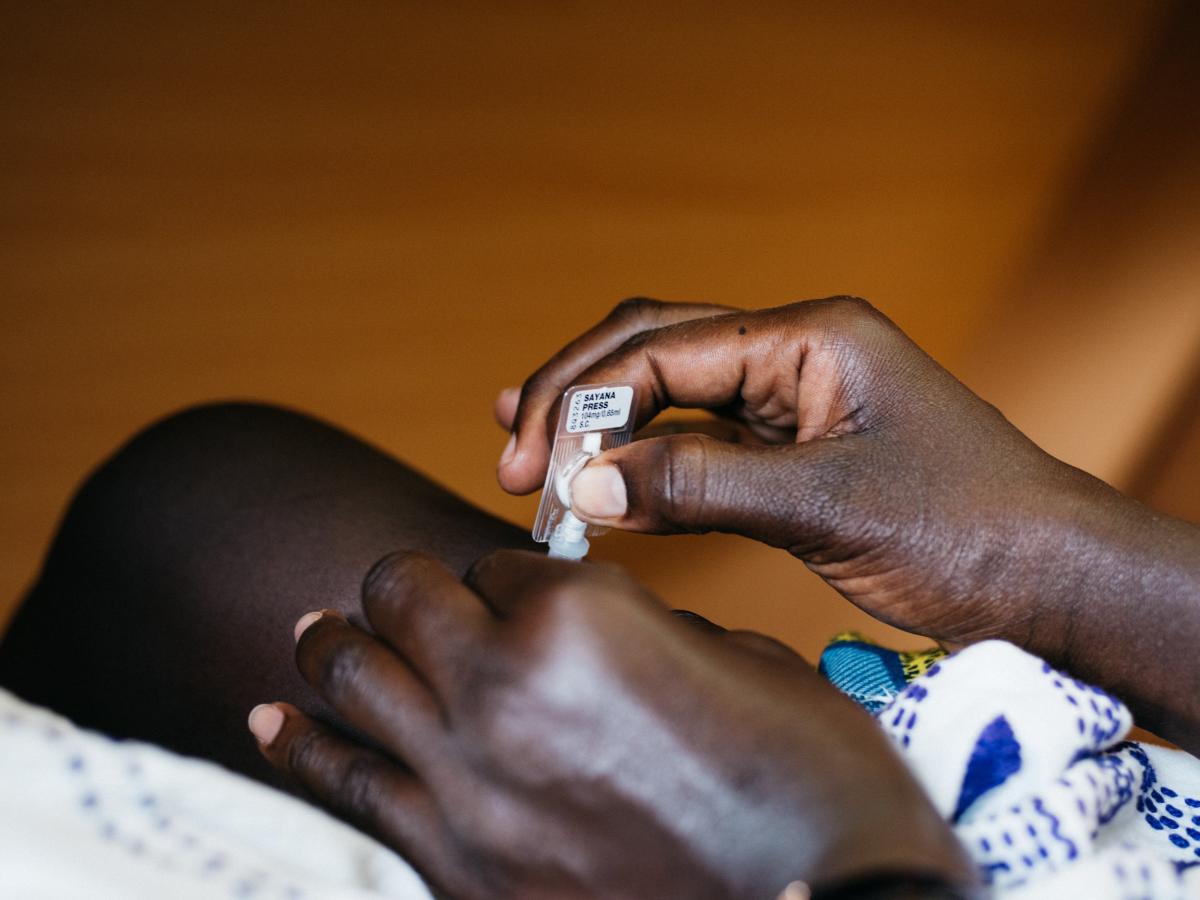 In September 2018, Nigeria's Essential Medicines List (EML) committee approved inclusion of subcutaneous depot medroxyprogesterone acetate (DMPA-SC). This decision ensures a more sustainable procurement plan for the injectable contraceptive and permits the private health sector to access and provide it. Expanding method choice offers more high-quality contraceptive options to women and girls and will help Nigeria reach its Family Planning 2020 goal of a 27% modern contraceptive prevalence rate by 2020.[1] 
In Nigeria, 60% of women access family planning information and services through the private sector; 38% go to private patent medicine vendors and community pharmacists.[2] Organizations like the Pharmaceutical Society of Nigeria - Partnership for Advocacy in Child and Family Health at Scale are working on policies to ensure that private providers can provide injectable contraceptives, including DMPA-SC. To do so, the commodity needs to be on the Essential Medicines List (now achieved), then authorized to be on the Approved Patent Medicines List.
Led by Palladium-Technical Support Unit, organizations like Advance Family Planning (AFP) local partner Pathfinder Nigeria began advocating to include DMPA-SC on the Essential Medicines List in early November 2017. The need intensified when Palladium developed the National DMPA-SC Accelerated Introduction and Scale-up Plan. Advocates presented evidence from clinical trials conducted in 25 countries that showed DMPA-SC to be effective, safe, easy to provide, and highly acceptable. The National Agency for Food and Drug Administration and Control also approved a pilot study of DMPA-SC for self-injection—although results were not officially reported. Initially, the EML committee was not convinced as none of the research was conducted in Nigeria. The process stalled.
In February 2018, advocacy partners regrouped under a new initiative: The Access Collaborative, led by PATH and John Snow Inc (JSI). This time, the group identified a new ally—the secretary of the EML committee, also a director of the Federal Ministry of Health's Food and Drug Department. Her support to better grasp the EML committee's concerns strengthened the advocacy approach.
Subsequently, the Director/Head of the Reproductive Health Division, Federal Ministry of Health delivered a revised presentation at the EML committee's September 2018 meeting. AFP, DKT, JSI, PATH, and Performance Monitoring and Accountability  (PMA) supplied advocacy materials that highlighted the benefits and safety of DMPA-SC. The presentation also included an evaluation of a DKT-Nigeria private sector program in select states and data from the latest round of PMA, all indicating an increased demand for DMPA-SC. After rigorous discussion and deliberation, the committee approved the inclusion of DMPA-SC on the EML.
Advocates are already working on the next steps for public and private sector provision, including approval by the Pharmaceutical Council of Nigeria to add DMPA-SC on the Approved Patent Medicines List, state-level adoption of the national rollout plan, product procurement, and trainings to enable community health extension workers, private patent medicine vendors, and community pharmacists to provide DMPA-SC across the country.
To complement these efforts, Pathfinder Nigeria is leading revision of the current national task-sharing/task-shifting policy, which expires in 2018. Pathfinder and the Pharmaceutical Society of Nigeria - Partnership for Advocacy in Child and Family Health at Scale are collaborating to ensure that the revised policy will allow private patent medicine vendors and community pharmacists to provide injectables and implant services, and will be disseminated and adapted at the state level.
[1]www.FamilyPlanning2020.org/NIGERIA
[2] Nigeria Demographic and Health Survey 2013
Source
Photo Courtesy of PATH/Gabe Bienczycki