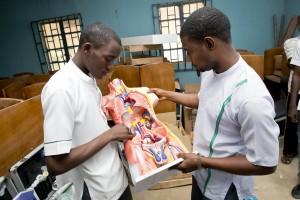 On April 28, 2017, the Nigerian Minister of Health released an updated training curriculum for Community Health Extension Workers (CHEWs) to include guidance on providing long-acting reversible contraceptives (LARCs). The revision builds on Nigeria's 2014 task-sharing policy that authorizes CHEWs to provide women with implants and intra-uterine devices, both LARC methods.
With a dearth of health care providers, CHEWs are critical to reaching women in mostly rural, hard-to-reach areas. Incorporating LARC methods into their pre-service training could save the government more than US $2 million annually in providing them stand-alone in-service training on LARCs.
In partnership with the Federal Ministry of Health (FMoH), Marie Stopes International Organisation Nigeria (MSION), an Opportunity Fund recipient, identified this revision as a crucial step to ensure the policy is fully operationalized in a cost-effective way.
FMoH was instrumental in reaching and advocating to the Community Health Practitioners Registration Board (CHPRB) to approve and ultimately adopt the revision. MSION engaged the National Family Planning and Reproductive Health Technical Working Group, collaborating with a core team comprised of government and civil society organizations: FMoH, CHPRB, the Association for Reproductive and Family Health, Clinton Health Access Initiative, Jhpiego, Palladium, Pathfinder, Society for Family Health, and USAID.
To ensure that the revision to include LARC training would be fully adopted, MSION worked with the CHPRB to adapt the standard procedures for pre-service training to reflect the updated curriculum.
As a next step, MSION will continue to work with the FMoH and the CHPRB to support implementation of the task-sharing policy, including ensuring trainers are equipped to teach LARC method insertion and training CHEWs that are already serving.
The Opportunity Fund, managed by PAI with funding from Advance Family Planning (AFP), is a small grants program that helps advocates seize opportunities to accelerate Family Planning 2020's success at district, state, national, and regional levels. MSION's strategy was borne out of AFP's "Fostering Locally-Driven Advocacy for Family Planning" workshop in January 2016.
Source
Photo courtesy of Flickr Creative Commons by Direct Relief