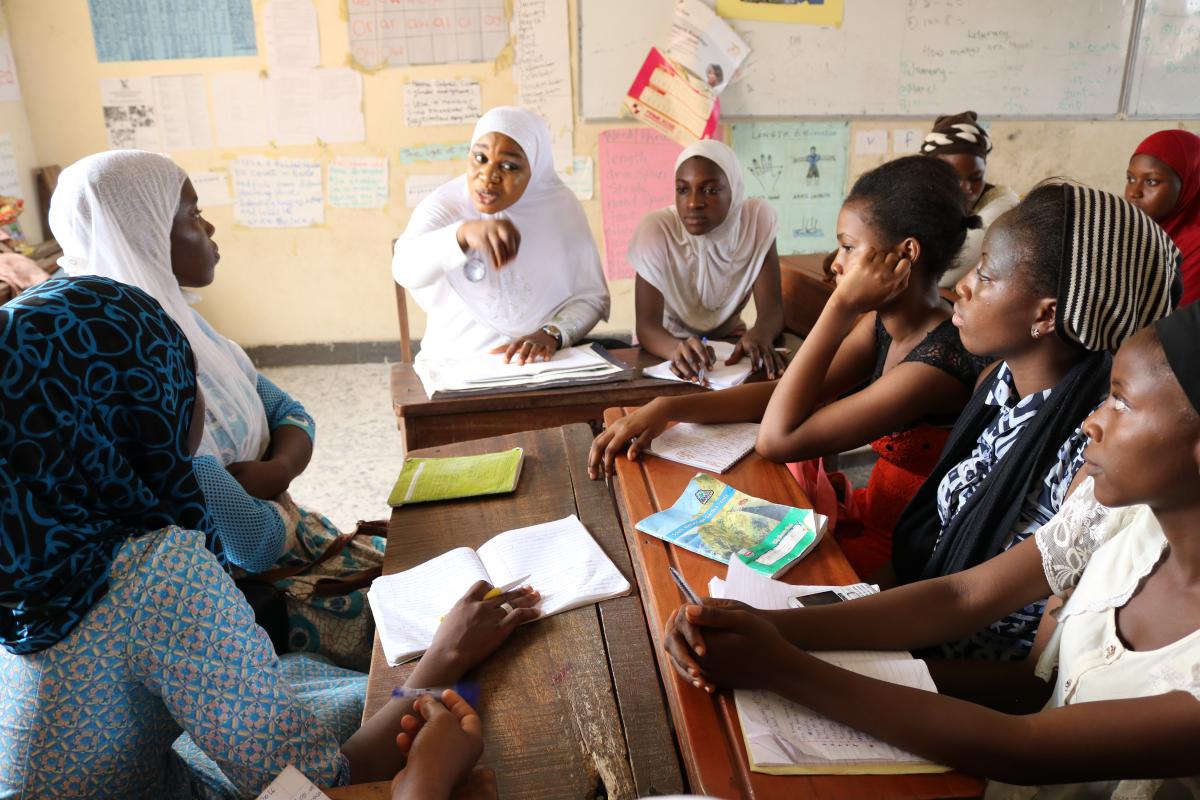 In January 2020, the Nasarawa State government approved five million Nigerian naira (US $11,400) for adolescent and youth sexual and reproductive health (AYSRH) in its fiscal year 2020 budget [1]. It is the first time that the Nasarawa State Primary Healthcare Development Agency has approved dedicated funds for AYSRH. The funds will be used to train provider and peer educators in youth-friendly services; establish safe spaces for peer-to-peer education in secondary schools; and print information, education, and communications materials on family planning.
Adolescents and young people make up nearly a third of the 1.8 million people in Nasarawa State [2]. Among adolescents 15 to 19 years old, 10% have started childbearing [3]. Despite 78% of public service delivery points reporting they offer family planning counseling and services to adolescents, only 3.5% of women between the ages of 18 and 24 said they used contraception, according to a Performance Monitoring for Action survey in 2018 [4].
To better understand and address this gap, in September 2018, Advance Family Planning local partner Pathfinder International Nigeria organized an AFP SMART workshop for youth advocates including the Nasarawa State advocacy working group—called the Community Link for Health and Family Planning Advocacy (CLHFPA). At the workshop, young people shared their experiences accessing reproductive health services and using contraceptives. They identified barriers including provider bias, stigma, sociocultural pressure to have children at a young age, and restrictive laws or policies. Youth advocates then developed advocacy strategies to address these issues.
Following the workshop, youth advocates from CLHFPA visited sites around Nasarawa between October and March to interact with youth-friendly center coordinators and assess the functionality of youth-friendly services. They found that most youth centers were not functioning, and that healthcare workers were inadequately trained to meet young people's needs and struggling to address trauma and morbidity following poorly performed abortions.
CLHFPA then met with decision-makers to share their findings and ask for a budget allocation to revitalize existing youth-friendly centers and improve AYSRH services in Nasarawa. In May and June 2019, they held a series of meetings with stakeholders involved in the creation of the state health budget, including the State Ministry of Health, the Ministry of Budget and Finance, the State Primary Healthcare Development Agency, and the State House of Assembly. The support of these stakeholders led to the addition of a dedicated budget for AYSRH in the Nasarawa State Primary Healthcare Development Agency's 2020 budget and approval by the agency's Executive Secretary the following January.
The Nasarawa Primary Health Care Development Agency has since incorporated AYSRH as a strategic objective in their annual operational plan and outlined activities to:
provide adolescents with comprehensive sexuality education that is both age appropriate and medically accurate to reduce unplanned pregnancies,

improve existing youth-friendly centers,

revitalize the adolescent technical working group, and

organize refresher trainings for healthcare workers.
Many of these activities were on hold between March and July 2020 due to the state government's focus on responding to the COVID-19 pandemic. In September, the Ministry of Health launched the revived Nasarawa adolescent technical working group. The technical working group will serve as a high-level advisory body to the state government on all adolescent health programming. They will lead on implementing the activities in the state's annual operational plan with support from CLHFPA.  As a next step, CLHFPA will continue to track the budget to ensure timely release of the allocated funds and advocate for future allocations.
References
Source
Photo by Nsoedo O. Ndubuisi for International Women's Health Coalition courtesy of Flickr Creative Commons