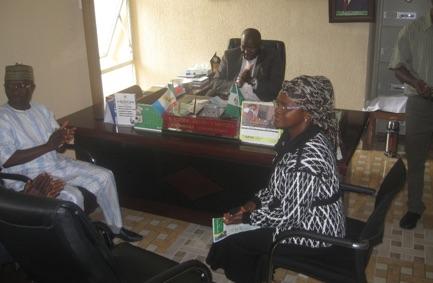 In July 2017, the Executive Governor of Plateau State released 5 million Naira (US $25,125) from the state budget for implementation of family planning and reproductive health (FP/RH) activities, fulfilling his statement of commitment from earlier this year.
Plateau State, located in the North – Central region of Nigeria, is home to three million Nigerians.  Compared to other states in that region, it has higher family planning uptake, with 15.2% of married women using contraception.[1] However, the state is committed to improving access to and use of family planning. It seeks to increase its contraceptive prevalence rate (CPR) from 15.2% to 34% by 2018.[2] This will contribute to the country's national goal, set out in the Nigeria Family Planning Blueprint, to increase the CPR from 15% to 36% by 2018.
On November 8, 2016, the Executive Governor of Plateau State, Hon. Barrister Simon Bako Lalong, committed to releasing N5 million allocated for family planning. He made this statement at a side meeting organized by the Bill & Melinda Gates Institute for Population and Reproductive Health at the Johns Hopkins University Bloomberg School of Public Health in during the 2016 Nigeria Family Planning Conference in Abuja, Nigeria. The Plateau State Family Planning Advocacy Working Group and Advance Family Planning's (AFP) lead partner in Nigeria, Pathfinder International, played a key role in ensuring the Executive Governor's participation and statement at the meeting.
Equipped with the Executive Governor's commitment, the Plateau State Family Planning Advocacy Working Group, supported by Pathfinder International, made follow up visits to the State's Commissioner for Health, Executive Secretary of the Primary Health Care Development Board, Accountant General, and Chairman of the Pleateau State House of Assembly's Committee on Health to make a case for release of the funds. These interactions culminated in the July 2017 release, which was announced by Professor Josiah Mutir, Chairman of the Plateau State Family Planning Advocacy Working Group at a forum of East Africa and Nigerian AFP Partners in Nairobi, Kenya.
The Reproductive Health Department of the State Ministry Of Health plans to use the funds to procure family planning-related consumables (e.g. gauze, surgical gloves, etc.), supervise health workers, and distribute family planning commodities. This will go a long way in accelerating reproductive health outcomes in the state and helping the state contribute its share of the National Blueprint goals.
"Plateau State is eager to continue to collaborate with its civil society partners in the health sector to advance family planning policy and service delivery. The state government has shown commitment to contribute state funding to achieve the state and national family planning goals and allow all women and couples in Plateau State to realize their reproductive health rights," says Professor Mutihir, Chairman of Plateau State Family Planning Working Group.
[1] Nigeria Demographic and Health Survey 2013
[1] Improving Nigeria's Contraceptive Prevalence Rate (CPR) in an Era of Change: Government's Perspective. A Presentation made by the Head, Reproductive Health Division, FMoH Nigeria