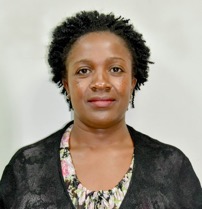 Beatrice has over 9 years' experience in Program implementation, including program planning, budgeting and coordination.
In the AFP – Jhpiego portfolio, she has taken on the youth advocacy component. Through her advocacy work , she has engaged  decision makers on the need for better policies on family planning for youth and adolescents .Beatrice  has for instance   helped the  Kwale county government come up with an action plan to prevent teenage pregnancy.
She is passionate on girl child protection, women empowerment, community development and has participated in various community service activities. She also volunteers with various community projects at the local level
Prior to joining Jhpiego, Beatrice worked with a local organization in mentoring young people on self-sustainability and career choice. She also held administrative positions that entailed the day to day running operations.
She has vast experience in organizing both local and international conferences and workshops.
Job Title
Advocacy Officer
Organizations
Jhpiego Kenya