October 13, 2021
Virtual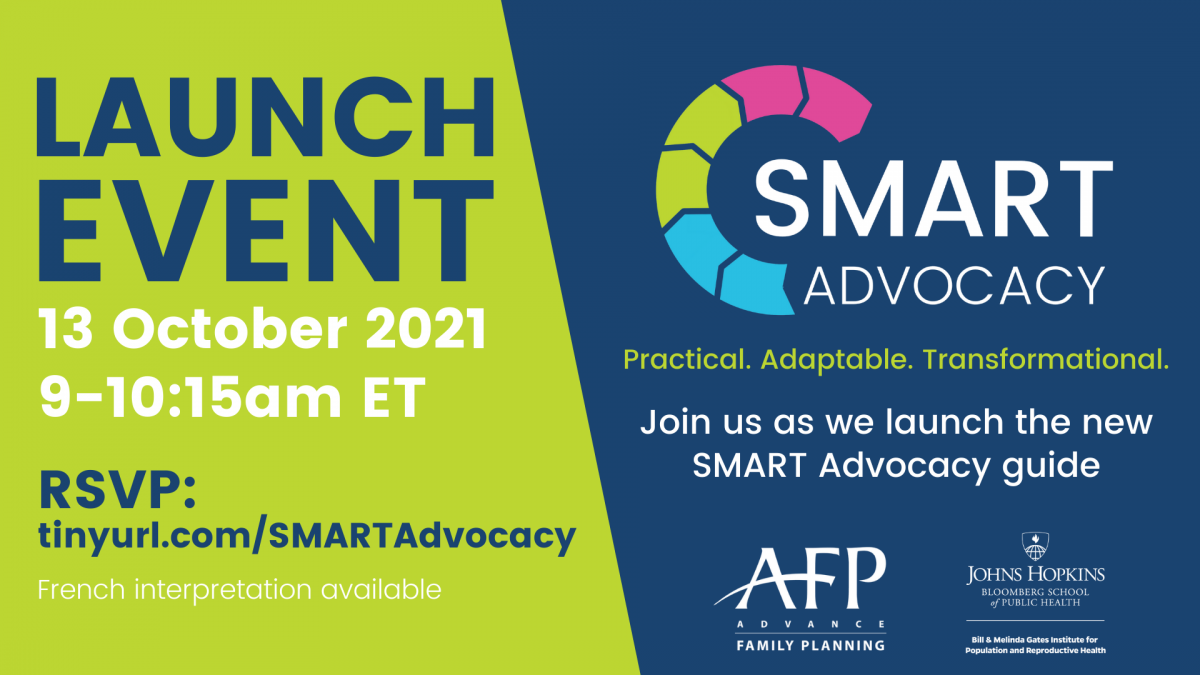 Wednesday, October 13th 
SMART Advocacy Guide Launch
Time: 9 am EST / 2 pm WAT / 3 pm CEST / 4 pm EAT / 7 pm BST
For more than a decade, SMART Advocacy has enabled individuals and groups to implement advocacy and fuel progress. With SMART Advocacy, the Advance Family Planning initiative mobilized more than US $100 million for family planning and achieved hundreds of policy changes, both large and small. The updated SMART Advocacy guide incorporates lessons from years of success and allows users to tackle any issue.

Whether you are a seasoned advocate or a beginner, or do not consider yourself an advocate at all, SMART Advocacy will strengthen your work and produce results.

Join changemakers from around the world to hear their SMART Advocacy stories. Learn why more than 250 organizations in 26 countries already use SMART Advocacy for a range of issues. Check out what is new and different and how it can help you achieve your advocacy goals. 
Register now: https://tinyurl.com/SMARTAdvocacy

French interpretation is available.

Rejoignez-nous le mercredi 13 octobre pour le lancement du nouveau guide amélioré sur le plaidoyer SMART!
Heure : 9h Baltimore / 14h Kinshasa / 15h Paris / 16h EAT / 19h BST
Depuis plus de dix ans, SMART Advocacy permet aux individus et aux groupes de mettre en œuvre le plaidoyer et d'alimenter le progrès. Grâce au plaidoyer SMART, l'initiative Advance Family Planning a mobilisé plus de 100 millions $US pour la planification familiale et a obtenu des centaines de changements de politique, petits et grands. Le guide pratique du plaidoyer SMART mis à jour intègre les leçons tirées de ces années de succès et permet aux utilisateurs de s'attaquer à n'importe quel problème.

Que vous soyez un défenseur chevronné, un débutant ou que vous ne vous considériez pas du tout comme défenseur, le plaidoyer SMART renforcera votre travail et produira des résultats.

Rejoignez des acteurs du changement du chaque coin du monde pour entendre leurs histoires du plaidoyer SMART. Découvrez pourquoi plus de 250 organisations dans 26 pays utilisent déjà le plaidoyer SMARTpour toute une série de problèmes. Découvrez ce qui est nouveau et différent et comment cela peut vous aider à atteindre vos objectifs de plaidoyer. 
Inscrivez-vous dès maintenant : https://tinyurl.com/SMARTAdvocacy

Une interprétation en français est disponible.