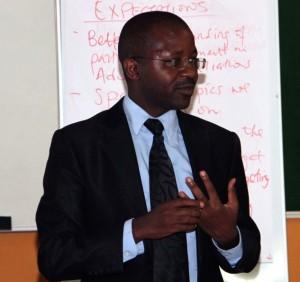 By Dilly Severin, Communications Director, Population Action International (PAI)
Budget advocacy is one of the most powerful tools civil society can use to hold governments accountable for commitments made around family planning and reproductive health. PAI sat with Dr. Moses Muwonge, budget expert and author of the 11-Step Budget Advocacy Guide to chat about the inspiration for the 11-step guide and his vision for what's next. Dr. Muwonge is also co-chair of the Advocacy and Accountability Working Group of the Reproductive Health Supplies Coalition.
Q. Can you talk about some of the obstacles you've encountered doing budget advocacy work?
A. In 2010, I was contacted by Dr. Jotham Musinguzi, regional director for Partners in Population and Development Africa Regional Office (PPDARO). He said to me, "Moses, I want you to help us with budget tracking. I don't know how you're going to do it but I want to see money spent."
I realized I needed to start from scratch working from outside the government system. I went to the Ministry of Health and started moving from office to office trying to figure out where the reproductive health commodities budget funds could be traced. I discovered money was sitting in banks, collecting interest, because the official request to release it had not been received.
Then I went to the National Medical Stores  and asked, "Why aren't you procuring?" They were waiting for a formal letter from the Ministry of Health instructing them on what to procure and in what quantities, but all they had received was the quantification report. I worked with the officer in charge at the ministry to ensure that the letters of instruction are written properly; Bit by bit, we mopped up all the money that was in the system and so we ended up spending more than was allocated (because of the interest gained while the funds were sitting in the bank). At the end of the year in 2011—two years after I first began to reflect on this issue—was the first time we saw progress.
Read the rest of the interview at PAI: All Access.
Source
Population Action International