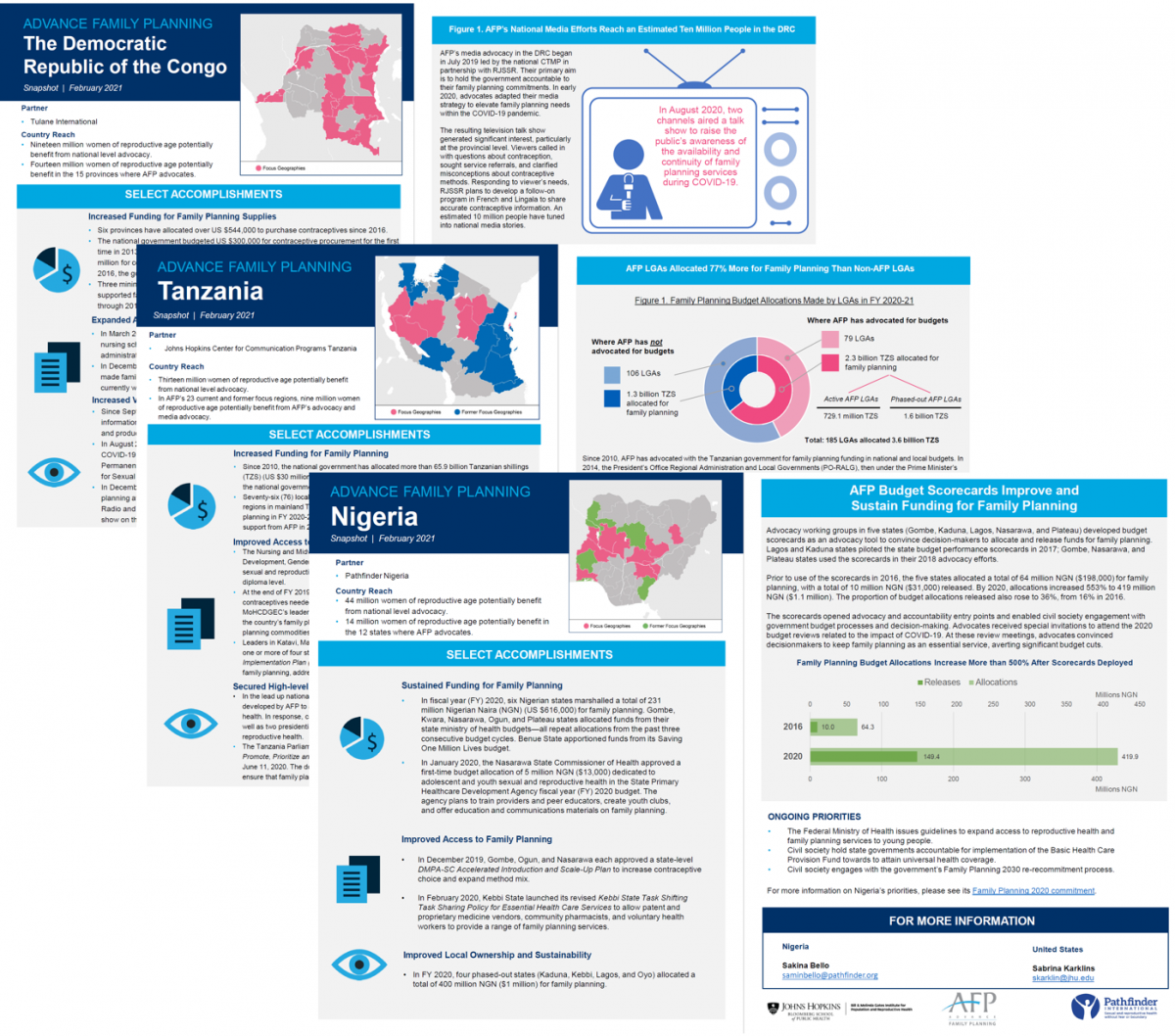 Seven new briefs by Advance Family Planning (AFP) partners highlight country achievements in Bangladesh, the Democratic Republic of the Congo (DRC), Kenya, Nigeria, Tanzania, and Uganda as well as AFP's six-country effort on media advocacy. The briefs showcase how advocates and government partners have improved family planning funding and services to date, and protected those gains within the COVID-19 pandemic.
More than 200 union councils in Bangladesh have continued to increase budget allocations and expenditures for family planning, helping to procure essential personal protective equipment during the pandemic.
In the DRC, national and provincial media advocacy efforts are increasing the visibility of family planning during the country's COVID-19 response and holding the government accountable to their family planning commitments.
The COVID-19 pandemic initially disrupted family planning services in Kenya, but advocates' quick action led to a government circular instructing all counties to ensure services continued.
Advocacy working groups are using budget scorecards to hold state governments accountable to allocate and release funds for family planning in Nigeria, helping to position family planning as an essential health service.
Tanzania included adolescent and youth sexual and reproductive health content in the national midwifery curriculum for the first-time and continues to improve young people's access to information and services through regional health strategies.
In Uganda, the provision of injectable contraceptives at drug shops—an important family planning access point for young people—is being scaled up across the country.
AFP's journalist partners are not only publishing stories and raising awareness of family planning issues, but also inspiring action among decision-makers. Media efforts in Kenya and Nigeria have prompted decision-makers to take action to address access to essential services during lockdowns and to secure family planning budgets.
Want to learn more about a particular country or focus area? See: