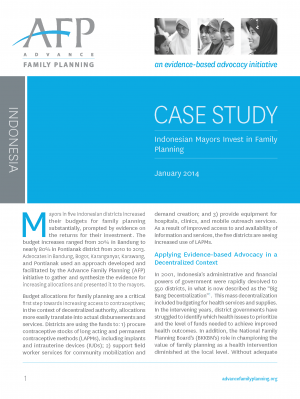 [Read en français]
New Advance Family Planning (AFP) case studies showcase the advocacy efforts behind five of the 20 "quick wins," or policy advancements, achieved in the last year. AFP's locally-led, collaborative approach focuses on the specific decisionmakers, arguments, and coalitions that are essential to policy change. Key strategies applied include mobilizing knowledge, resources, and networks and building consensus through the advoc acy strategy tool, AFP SMART: A Guide to Quick Wins. View and download the case studies:
Advocating with Data and Deference to Stakeholders: Increasing Community Access to Injectable Contraceptives in Kenya
Addressing Contraceptive Stock-outs Caused by Procurement Delays in Tanzania
Tanzanian NGOs and Government Open Door to Improve Contraceptive Supply System
Indonesian Mayors Invest in Family Planning
Ugandan Parliament Sharpens Focus on Family Planning through Passage of National Population Council Bill
The AFP SMART: A Guide to Quick Wins, part of the Advocacy Portfolio, is available online in both French and English. The Portfolio provides step-by-step guidance on how to develop, implement, and capture the results of a focused advocacy strategy.