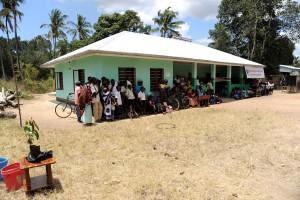 Three rural districts made budget allocations for family planning totaling US $20,700 in the Lake Zone of Tanzania, which reports some of the lowest contraceptive prevalence rates in the country. Advocacy led by local Advance Family Planning partner Health Promotion Tanzania (HDT) culminated in the Serengeti District and Tarime Town Councils allocating funding from their own sources for the first time and Musoma Rural District Council more than doubling their family planning allocation from the previous year.
 
HDT engaged at the district level through a series of activities beginning in August 2014. They first collaborated with technical teams in the district medical offices to conduct a needs assessment across the focus districts to establish evidence for family planning needs and develop messaging. In September, HDT met with district council leadership – prioritizing attaining the investment of the planning officers and secretaries to the District Councils and presenting proposals to the committees for social services.
 
HDT also organized a meeting for all of the districts in the region to present data from the three focus districts and engage health team members from the others. Seven out of eight districts attended to discover and discuss the results of the needs assessment.
 
The district-level engagement resulted in commitments for budget allocations to family planning, which the committees for social services were already prepared to approve: approximately $10,588 from Serengeti District Council, $7,647 from Musoma Rural District Council, and $2,529 from Tarime Town Council. HDT consistently followed-up on the commitments as the budget drafts were developed and moved up the levels of government for approval from Parliament in June 2015.
 
In the upcoming months, HDT and local Advance Family Planning partners Johns Hopkins Center for Communication Programs Tanzania and United Nations Association Tanzania will track whether the remaining districts in the region have made similar allocations after learning from the focus districts, as well as push for the implementation of the Local Government Authority Budget Directive on Family Planning.
Source
Photo courtesy of Flickr Creative Commons by US Army Africa