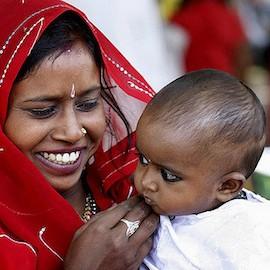 Two districts in India's Rajasthan state established counseling corners in local public health facilities in April. The private, dedicated counseling spaces ensure that clients can make informed decisions regarding family planning.
Sawai Madhopur and Sirohi both have total fertility rates higher than 3 children per woman – the national government designates such districts as high focus areas for family planning interventions. In February 2017, Advance Family Planning local partner Pathfinder International India identified that Sawai Madhopur district only had one functional counseling corner at the sub-district hospital, despite a INR 80,000 national budget allocation for two counseling corners in the district program implementation plan. Pathfinder's local team engaged with the district's Chief Medical and Health Officer for Family Welfare, the district health society, and district quality assurance committee to learn more. After discovering that the allocated budget was not transferred to the Principal Medical Officer's account, the team met with the District Accounts Manager and ensured the transfer of INR 40,000 into the account to setup the additional counseling corner.
The Sawai Madhopur district hospital identified a suitable space for the counseling corner and completed the necessary structural work by April 5, 2017. The counseling corner is now fully functional. A midwife is assigned as a counselor until a full-time counselor is recruited.
Similarly, in Sirohi district, the INR 40,000 allocated for a counseling corner remained unspent. Pathfinder met with the District Program Manager and Health Officer for Family Welfare in March to discuss the need for establishing a private space. The district official agreed. Although Sirohi's hospital already employed a full-time counselor, they did not have a dedicated place for counseling. The counselor helped identify a suitable location and it became functional on April 13, 2017. Her records indicate that by the end of the month, she counseled more than 200 clients.
Ms. Manohar Kawar, the Sirohi district hospital counselor noted, ''Earlier, I had no fixed place to provide counseling services. But after establishing a dedicated counseling space, it is easy for me to counsel eligible couples. I foresee an increase in number of counseled clients in the future.''
The aim is that at least 150 clients will be counseled at each hospital per month. Going forward, Pathfinder will continue to monitor the counseling corners' functionality and advocate for additional ones.
Source
Photo courtesy of Flickr Creative Commons by Steve Evans