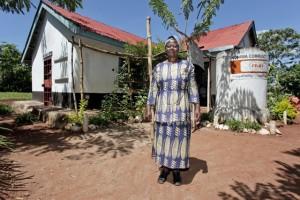 The governments of Homa Bay County and Busia County in Kenya recently launched costed strategic plans for family planning, a momentous move in addressing local populations' sexual and reproductive health needs.
The plans provide a framework for prioritizing and budgeting for family planning as well as guidance for organizing, mobilizing resources, and implementing and monitoring family planning programs at the county level.
Homa Bay and Busia mark the fifth and sixth county, respectively, that have developed family planning strategic plans with support from Advance Family Planning (AFP). In 2014, AFP, through lead country partner Jhpiego Kenya, supported the development of county plans in Kakamega, Kitui, Siaya, and Tharaka Nithi.
Homa Bay county has some of the poorest sexual and reproductive health outcomes in Kenya, including high adolescent pregnancy rates. Young mothers are also prevalent in Busia County.
Advocacy for the counties' costed strategy plans began in mid-2014 through two Opportunity Fund awards to local civil society organizations in each county.
The Opportunity Fund, managed by PAI with funding from AFP, is a small grants program that helps advocates seize opportunities to accelerate Family Planning 2020's success at district, state, national, and regional levels.
Homa Bay County Launches 5-Year Costed Strategic Plan
On April 23, the Homa Bay County government launched a five-year, 1.8 billion shilling (USD 20 million) family planning strategic plan (2015-2019).
KMET, a Kenyan civil society organization based in Kisumu, led the advocacy with technical assistance from Jhpiego Kenya. KMET supported the county governor and health management team in development of the strategic plan, engaging a diverse cohort of stakeholders throughout the process.
In June 2014, KMET signed a memorandum of understanding with the county government, which became the basis for creating an 11-person family planning task force led by the county's director of health services. A situational analysis conducted in five sub-counties then helped to define priorities within the strategic plan.
The Ministry of Health, county assembly leaders and partners validated the strategy in March 2015. KMET has already secured a number of partner commitments toward its implementation. Follow-up advocacy objectives will focus on ensuring resources are allocated for health worker training and contraceptives, and that the family planning strategy is included in Homa Bay's annual work plan.
Busia County Launches 3-Year Costed Reproductive Health Strategy
On May 15, the Busia County government launched a three-year, 2.3 billion shilling (USD 24 million) reproductive health strategy (2015-2017)—with a focus on family planning and reaching adolescents and youth with contraceptive information and services.
Advocacy began with an Opportunity Fund award to the Centre for the Study of Adolescence (CSA), a Kenyan civil society organization based in Nairobi with a long history of working with policymakers and community leaders in Busia.  CSA employed an inclusive approach with the county government modeled on the success of Jhpiego Kenya and KMET.
"This strategy re-emphasizes the need to reduce the unmet need for family planning in Busia County and therefore recognizes the importance of achieving self-sustainability in family planning programming and service provision, which is possible only if the county government takes the responsibility of budgeting and for allocating financial resources for family planning commodities procurement." --Reproductive Health Strategy, County Government of Busia (2015-2017)
Governor Sospeter Ojaamong and County Executive Committee Member for Health Dr. Maurice Siminyu both expressed their commitment to implementing the RH strategy and called on other development partners in the county to support various budget items in the strategy.  Dr. Siminyu pledged that the county will recruit 100 new health workers and dedicate 26% of its total budget to health in the next financial year (2015/2016). This represents a near doubling of the current health budget. 
CSA is now working with the county health management team and county assembly leaders to ensure that 6% of the health budget is allocated to family planning and to disseminate the reproductive health strategy among Busia's seven sub-counties.  Discussions are underway to convene a stakeholders' forum to secure support and additional resources to implement the strategy.
Source
Photo courtesy of Flickr Creative Commons by Gates Foundation