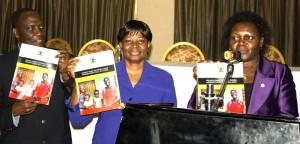 On November 27, 2014 the Government of Uganda launched a costed implementation plan to scale up family planning programming and investments from 2015 to 2020. The plan serves as a roadmap to achieve the country's vison for universal access to family planning and for  middle-income country status by 2020. Hon. Sarah Opendi, Minister of State for Health, represented the Ugandan Prime Minister at the launch, and announced, "We have been crawling, we have hopped, and now we can run."
The USD 235 million plan, called the Uganda Family Planning Costed Implementation Plan, 2015–2020(FP-CIP), sets operation goals to reduce the unmet need for family planning from 40% to 10% and increase the modern contraceptive prevalence rate to 50% by 2020. To accomplish this, the FP-CIP identifies five strategic priority areas:
Increase age-appropriate information, access, and use of family planning amongst young people, ages 10–24 years
Promote and nurture change in social and individual behavior to address myths, misconceptions, and side effects and improve acceptance and continued use of family planning to prevent unintended pregnancies
Implement task sharing to increase access, especially for rural and underserved populations
Mainstream implementation of family planning policy, interventions, and delivery of services in multi-sectoral domains to facilitate a holistic contribution to social and economic transformation
Improve forecasting, procurement, and distribution and ensure full financing for commodity security in the public and private sectors[1]
Fully funded and effectively implemented, the plan will avert more than 4 million unintended pregnancies, more than half a million unsafe abortions, and more than 6,000 maternal deaths between 2015 and 2020. Additionally, the intervention will lead to saving USD 127 million on maternal and infant health care costs alone during the six-year plan period.[2]
Uganda began developing the plan in early 2014, with support initiated by the United Nations Population Fund (UNFPA) Uganda and guidance from a small steering committee of local stakeholders. In July 2014, the Health Policy Project (HPP) and Advancing Partners & Communications (APC), funded by the United States Agency for International Development (USAID), assembled a technical support team to provide additional expertise.
The Advance Family Planning initiative's local partners, Partners in Population and Development Africa Regional Office (PPD ARO) and Reproductive Health Uganda (RHU) provided valuable input. PPD ARO originally voiced the need for a FP-CIP in Uganda along with the Ministry of Health and UNFPA, and remained an influential contributor throughout. RHU headed the youth sub-group, and meaningfully supported other teams during the development process.
The FP-CIP and launch reflect the continued and growing commitment of high-level leaders in supporting family planning.  At the National Family Planning Conference in July 2014, the President of Uganda H.E. Yoweri Kaguta Museveni declared, " "You become advocates in your constituencies, in cabinet and also parliament. And we require from you honourable members of parliament and honourable minister to influence budget decisions. This is going to be important- resource mobilisation- so that we realise the success of today's launch."
Family planning is good for the health of the mother, good for the health of the children. [Family planning] is good for the welfare of the family; [it] is good for the welfare of the country."[3]
At the launch, Professor Anthony Mbonye, the acting Director General of Health Services at the Ministry of Health, urged Minister Opendi and Members of Parliament present to continue advocacy and championing family planning. He noted that their influence in mobilizing resources is critical to realizing the FP-CIP operational goals. Other attendees included officials and representatives from the Ministry of Health, Education, Gender and Youth, and Local Government. District leaders and representatives from civil society organizations and international donor agencies were also present.
PPD ARO and RHU are both working to support FP-CIP implementation; RHU is focusing at the district level while PPD ARO is providing technical assistance and supporting monitoring and accountability practices.
[1] FP-CIP. 19.
[2] FP-CIP. 44.
[3] FP-CIP. xiii.
Source
Reproductive Health Uganda