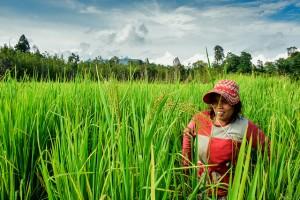 In June 2017, Indonesia's provincial government of West Kalimantan allocated IDR 470 million (US $35,300) of its own funds to scale up 14 family planning advocacy district working groups in 2018—12 of which are newly formed. This win for sustainable, locally-funded advocacy builds on years of efforts to improve information and services for couples in West Kalimantan.
The National Population and Family Planning Board (BKKBN) West Kalimantan office and Advance Family Planning (AFP) local partners Johns Hopkins Center for Communication Programs and Yayasan Cipta Cara Padu (YCCP) first facilitated the formation of a locally-led working group in the provincial capital of Pontianak city in 2010. For five years Pontianak city's family planning progress improved with the collaborative efforts of local advocates and policymakers.
BKKBN of West Kalimantan adopted the district working group approach in 2015 and replicated it in other areas of the province, forming district working groups in Bengkayang and Kapuas Hulu. That same year, Pontianak city graduated from YCCP's technical support after fully committing to family planning. Their working group continues to thrive.
BKKBN West Kalimantan's June allocation of IDR 470 million will sustain operations for the provincial working group, Bengkayang and Kapuas Hulu's district working groups, and those of the 12 districts established this year. The working group members represent local institutions, including health offices, development planning boards, the Indonesian Midwives Association, the Family Welfare Empowerment office, the private sector, and BKKBN.
In the lead up to the commitment, the provincial government allocated IDR 100 million (US $7,500) to convene a Family Planning Coordination Meeting. The West Kalimantan provincial working group and representatives from the 14 district working groups attended the meeting on May 3rd. In an opening speech, West Kalimantan Governor Cornelis stated that he hoped the reformative programs will draw many benefits, including increased community welfare. The Governor, a family planning champion, decreed the provincial working group as an official government body last year..
Kapuas Hulu District Vice Head Antonius Pamero affirmed their district working group's positive impact on family planning. He noted the significantly improved commitment and cooperation between stakeholders, resulting in stronger family planning programs. Moreover, the Indonesian Social and Economic Survey (SUSENAS) indicated that long acting permanent method (LAPM) use in Kapuas Hulu increased from 3.36% in 2015 to 5.29% in 2016. LAPM use in Bengkayang also increased: from 5.35% in 2014 to 8.85% in 2016.
Going forward, the provincial working group will continue to provide technical assistance to the district working groups. YCCP is also currently assisting the district working groups with scaling up a government program called Kampung KB using the AFP SMART approach.
Source
Photo courtesy of Flickr Creative Commons by CIFOR