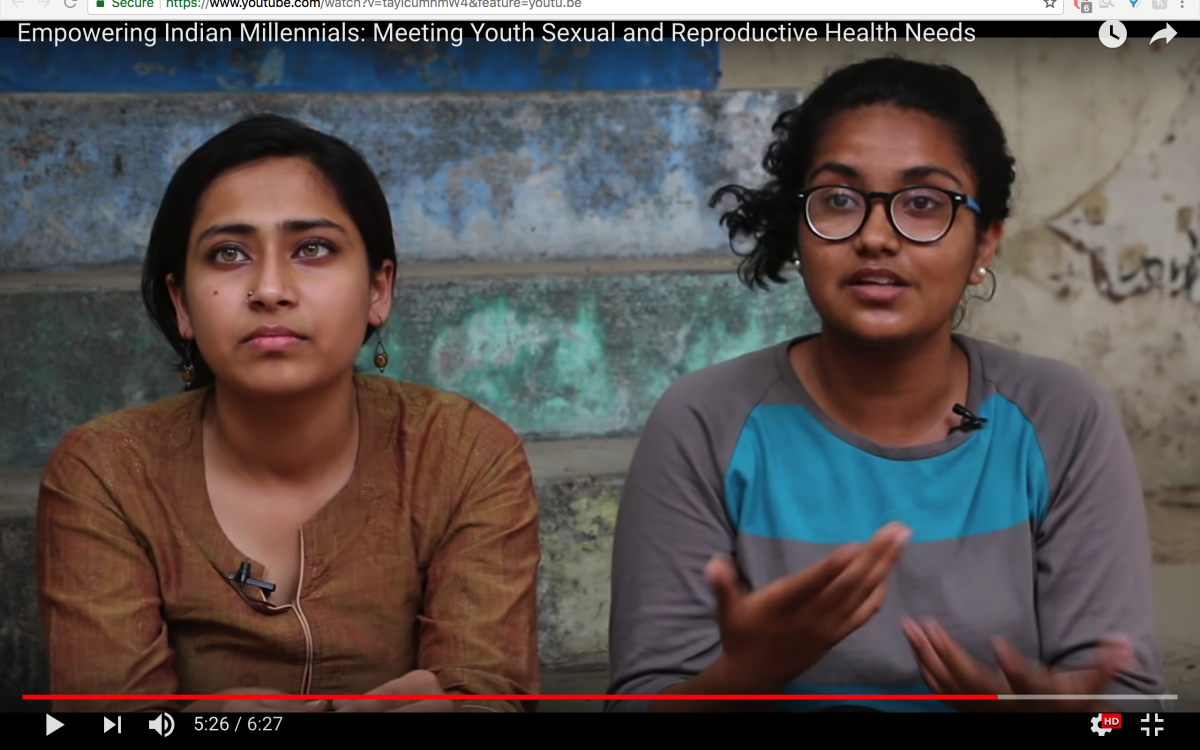 Advance Family Planning (AFP) local partner Jhpiego India, in collaboration with Population Reference Bureau, launched a new video[1] and factsheet[2] entitled Empowering Indian Millennials: Meeting Youth Sexual and Reproductive Health Needs.
Youth voices are at the forefront of the advocacy resources—the video features interviews with several young people who highlight the barriers they face when trying to access sexual and reproductive health information and services. More than half of the current Indian population is under the age of 30—approximately 732 million adolescents and youth across the nation.[3]
The factsheet, which can supplement the video or stand alone, identifies action steps for decision-makers to address barriers such as stigma and lack of confidentiality. In addition, it highlights that economic productivity in India would increase by more than 508.2 trillion Indian rupees (US $7.5 trillion) if young girls could delay pregnancy until their early twenties.[4]  
Jhpiego India realized they needed an attention-grabbing, informative advocacy tool that would inspire further discussion while advocating for youth-friendly health centers located in or around institutions of higher learning such as universities. Population Reference Bureau supported the products under their Family Planning Advocacy Resource Hub, an extension of their Empowering Evidence-Driven Advocacy Project.
As a next step, Jhpiego India will advocate with the stakeholders for ensuring youth access to health centers for sexual and reproductive health counseling and services. Going forward, the team will also use the new, customized, evidence-based materials to communicate ideas and evidence to policymakers, educationists, youth leaders, civil society members, local leaders, other gatekeepers, and influencers in workshops, meetings, and other advocacy opportunities.
  1. Link for the video: https://youtu.be/tayicumnmW4
  2. Link for the factsheet: https://www.prb.org/wp-content/uploads/2018/06/India-Fact-Sheet-EEDA.pdf
  3. United Nations Population Division (UNPD), World Population Prospects: The 2017 Revision (New York: UNPD, 2017).
  4. Ellen Starbird, Maureen Norton, and Rachel Marcus, "Investing in Family Planning: Key to Achieving the Sustainable Development Goals," Global Health: Science and Practice 4, no. 2 (2016): 191-210
Source
Photo Courtesy of YouTube by Jhpiego India