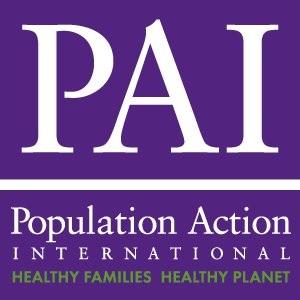 By Dilly Severin, Communications Director, Population Action International. Cross-posted from All Access.
In January, the government of Zambia approved its first-ever budget line for reproductive health supplies, including contraceptives. The government allocated $9.3 million for fiscal year 2014 to supplies—a major achievement for Zambian reproductive health advocates.
Planned Parenthood Association of Zambia (PPAZ) was a leading voice in making the case for the budget line, with the help of a $50,000 advocacy grant from the Opportunity Fund, a flexible source of funding for family planning advocacy managed by Population Action International for Advance Family Planning.
Population Action International's Communications Director Dilly Severin talked with Edford G. Mutuma, Executive Director of PPAZ, about how they made the new budget line happen, what this victory means for women, and what comes next.
Q. WHY IS THE CREATION OF THIS BUDGET LINE IMPORTANT?
Mutuma: It is good for the Zambian government to make commitments, but if the government is serious about investing in family planning then the will of our politicians should result in budget lines. It is the budget lines that will deliver the service. In the past much of the funding for family planning has been donor-driven. We have been pushing the government to take ownership. The $9.3 million is roughly double what we think the government committed in the past. And within this budget line, the government share of funding for reproductive health supplies has also increased, to about one-third of the total.
Not having that budget line was one of our main challenges. For us that was the advocacy opportunity. We said: "How do we translate what we are talking about—the importance of family planning—to services in the communities?" We wanted to know why is family planning not on the development agenda? It became an advocacy issue for us to push the government to create this budget line.
Q. DO WE KNOW HOW FAMILY PLANNING SPECIFICALLY FITS INTO THE BUDGET LINE?
Mutuma: Yes and no. When we look at the government's FP2020 commitments, one of them was to double the budget allocation for contraception. The fact that we now have a budget line for reproductive health supplies is a reflection of that commitment. But there is still more work to do. Now the agenda we are pushing is to make sure that family planning is included in the yellow book (the document created by the Ministry of Finance that shows the budget allocations across the government) as a specific line and to make sure that contraceptives, especially long-acting methods, are on the essential drugs list. The current budget line on reproductive commodities is quite broad. We need to be specific when it comes to meeting our family planning targets.
Q. IF I AM A ZAMBIAN WOMAN WHO DOESN'T HAVE ACCESS TO FAMILY PLANNING, WHAT WILL THIS BUDGET LINE MEAN FOR ME?
Mutuma: In Zambia, people often know about family planning, but when they go to the health center they don't find family planning commodities to match their needs, or the mix of contraceptive methods is limited. This budget lines will help women to have family planning by choice, not by chance. We have a large unmet need—around 28 percent. So this is the problem. Our work to address this has been two-fold. First we empower people with information they need to make the right decisions for themselves; second, we make sure that services are available on the ground. But all of that will only go so far if family planning funding is not prioritized at the national level. Our goal is to match the new budget line with the service in the clinics. It will be very important for helping women access the method they want.
Q. CAN YOU TALK ABOUT SOME OF THE CHALLENGES YOU FACED ON THE ROAD TO THIS SUCCESS?
Mutuma: There were many challenges. One of the main challenges was to find the responsible ministry that deals with budget allocation. We have two main ministries that deal with family planning—the Ministry of Health and the Ministry of Community Development, Mother and Child Health. So finding our target audience among those two was a challenge.
The Ministry of Finance is the budget-holder that determines which ministry gets what. When they think of health they think of malaria, HIV etc. Family planning was not something they knew. We had to invest a lot of time educating them about family planning, but also about the government's commitments. For example, there is the Abuja commitment to allocate 15% towards health but the Ministry of Finance knew nothing about this since it was the Ministry of Health that made that commitment.
Q. HOW DID THE OPPORTUNITY FUND HELP YOU OVERCOME THESE CHALLENGES?
Mutuma: One of the main challenges for advocacy in Africa, and Zambia in particular, is resource mobilization. With our limited resources we do not have budget lines just for advocacy, so we are really happy for this support. The Opportunity Fund also helped us reorganize ourselves as advocates with other reproductive health partners, so we had extra arms to meet with other partners and engage the ministries. The Fund also worked with us to focus our advocacy objectives, which has given us an extra push to achieve our expected outcomes.
Q. WHAT'S NEXT?
Mutuma: There is more work needed to continue empowering stakeholders. We need to build a cadre of advocates who understand commodities, reproductive health and budgets. Having the budget line is good but it is not enough. For us, the advocacy is continuous. We need to follow up and make sure the money is used as it was intended so that people on the ground can get the services they need. We need to know when the money will be given and how it will be given.
We are also pursuing an agenda for community health workers to give contraceptive injectables. We have strong evidence from here and neighboring countries that shows the effectiveness of engaging community health workers in this way. We want the government to give us policy direction on this front. Zambia has a shortage of health personnel, and this initiative could help bridge that gap while simultaneously expanding method choice.
This is just a beginning. We have lots left to do.
Source
Population Action International