Choose a component to view, download or share.
Choisissez un composant pour afficher, télécharger ou partager.
Advocate for Family Planning
Develop a Strategy
Part 1: Landscape Assessment: Understand Your Context

Part 2: AFP SMART: A Guide to Quick Wins
Implement a Plan
Part 1: Monitor for Impact—The Decision Tree

Part 2: Evidence-based Briefs—Make Your Case
Capture Results
Part 1: AFP Results Cascade: A User's Guide

Part 2: Case Studies—Tell Your Story
AFP SMART Facilitator's Guide
Plaider pour la planification familiale
Élaborer une stratégie
Partie 1: Évaluation du paysage: Comprendre votre contexte

Partie 2: AFP SMART: Un guide rapide remporte
Mettre en œuvre un plan
Partie 1: Surveiller les chocs L'arbre de décision

Partie 2: fondées sur des preuves-mémoires Faites votre cas
Résultats de la capture
Partie 1: AFP Résultats Cascade: Guide de l' utilisateur

Partie 2: Etudes de cas-Racontez votre histoire
Guide de l'AFP SMART Facilitateur (NOUVEAU!)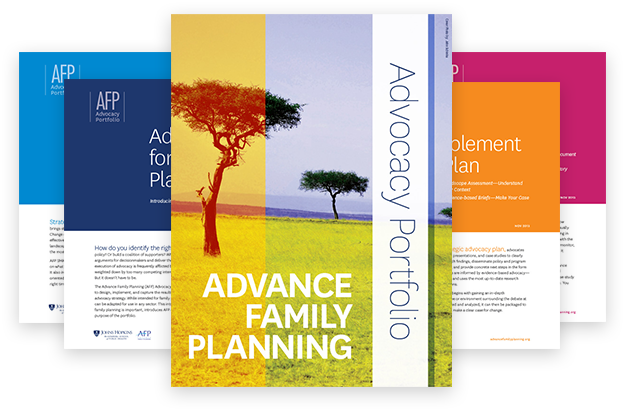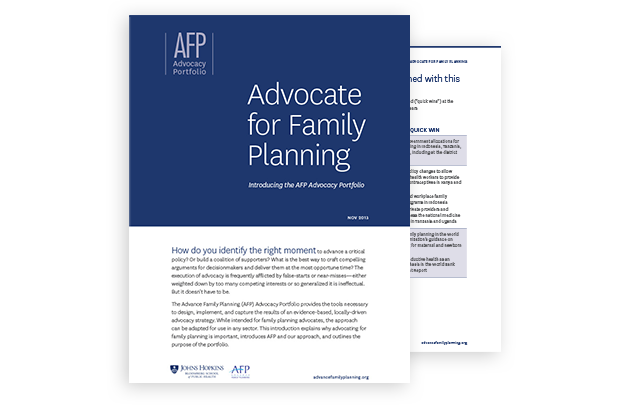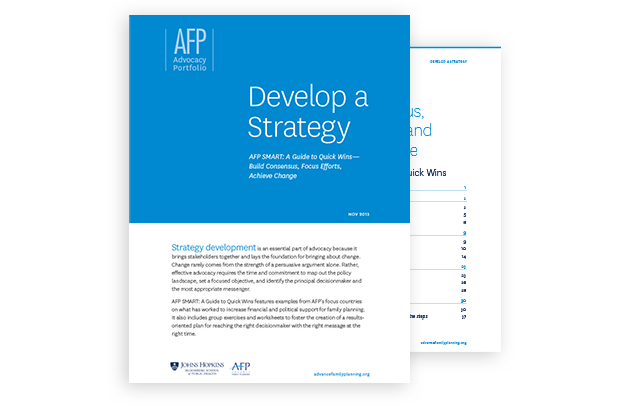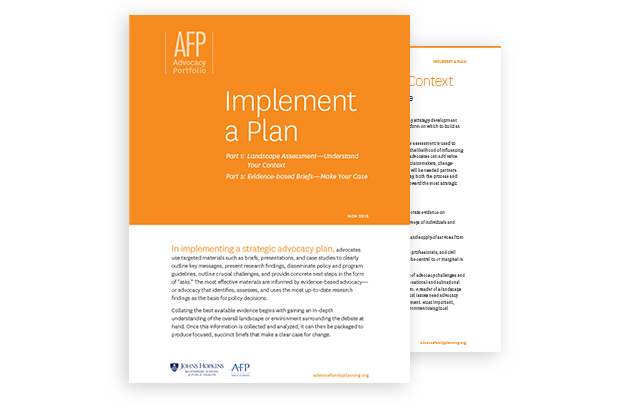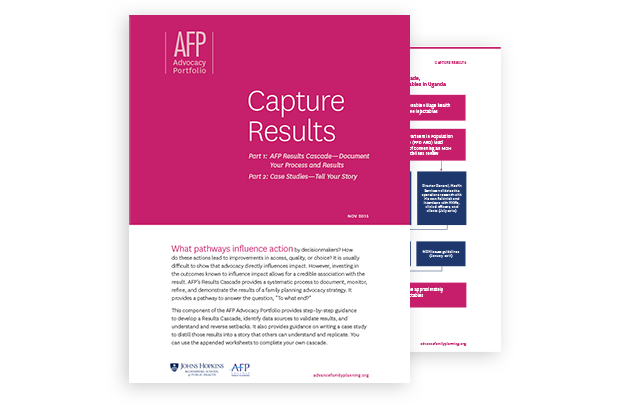 How Does This Help?
How do you identify the right moment to advance a critical policy? Or build a coalition of supporters? What is the best way to craft compelling arguments for decision makers and deliver them at the most opportune time?
The execution of advocacy is frequently afflicted by false-starts or near-misses—either weighted down by too many competing interests or so generalized it is ineffectual. But it doesn't have to be.
The Advance Family Planning (AFP) Advocacy Portfolio provides a compendium of our best practices and tools to refine a strategic vision, identify and motivate key players, take action, manage and overcome setbacks, and monitor and evaluate success. Whether you are a new or experienced advocate, the AFP Advocacy Portfolio can help you along the way to achieving your desired result: real, achievable, and sustainable change.
Used separately, the tools can supplement an existing effort or inject new life into an initiative that has lost its vision or momentum. Used together, they provide a comprehensive roadmap to develop, implement, and evaluate a focused advocacy strategy from start to finish.