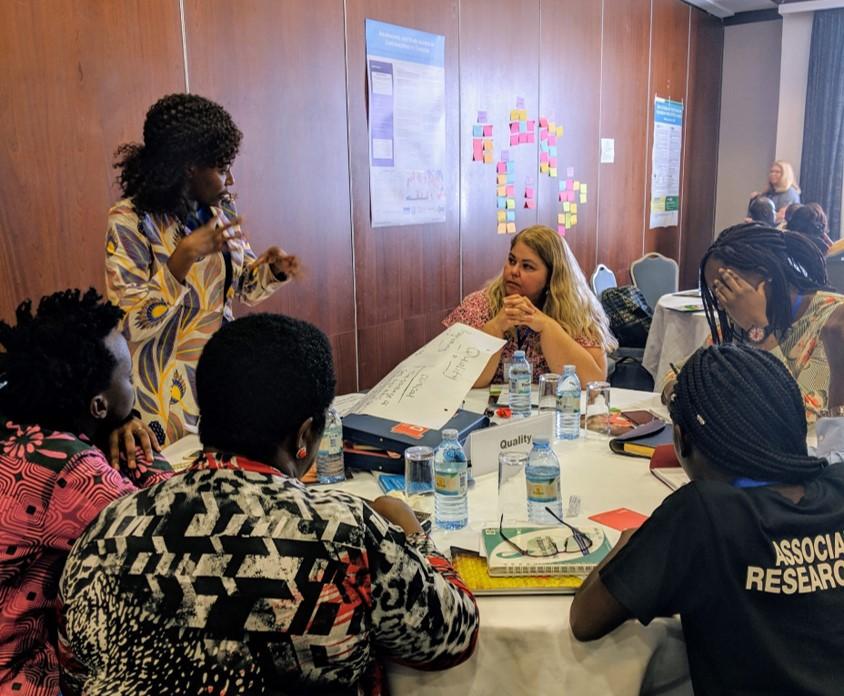 February 13, 2019
Last month, Advance Family Planning (AFP) held its first regional meeting specifically dedicated to advancing adolescent and youth sexual and reproductive health (AYSRH) advocacy in Anglophone Africa. Held in Kampala, Uganda, the four-day working meeting brought together 42 advocates, researchers, program implementers, and government officials to address the issue of high teenage pregnancy in five countries (Kenya, Nigeria, Tanzania, Uganda, and Zambia). Each country delegation team included at least one youth representative, ensuring young people's involvement from the start.
AFP's partner organizations in the five countries co-organized the convening based on a shared desire to learn from each other's experiences and successes as they all work to improve youth contraceptive access and reduce teenage pregnancies.
Using AFP's SMART (Specific, Measurable, Attainable, Relevant and Time-bound) advocacy approach, participants developed focused, country-specific, collaborative advocacy strategies to improve contraceptive access for adolescents and youth in their countries. To ground the strategies in the latest evidence, participants learned about the latest AYSRH data, trends, and research from Performance Monitoring and Accountability's Dr. Fredrick Makumbi and the Population Council's Dr. Harriet Birungi. Country teams then crafted strategies to increase funding for implementation of AYSRH interventions; create standardized national sexuality education frameworks and curricula; and advance policies that pave the way for young people to access contraceptive information, services, and supplies.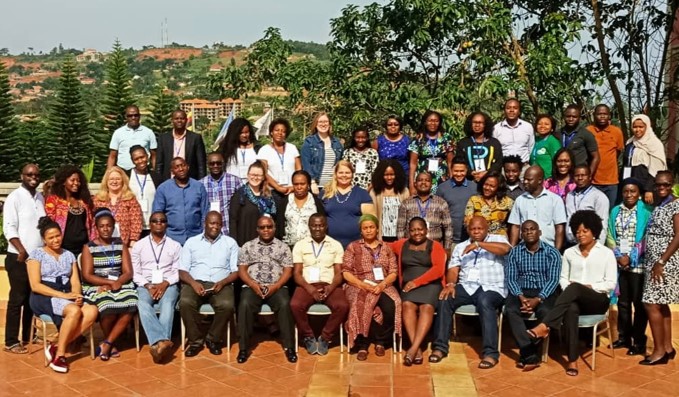 "This was a great opportunity for me to see how…different people have adolescents' rights at heart, giving me hope that there is a future for other youths like me," said one participant. "It was great to learn about the different methods and strategies used in developing advocacy points."
Understanding the Need
Young people in East Africa and Nigeria have low access to sexual and reproductive health services, which has contributed to high adolescent fertility rates among 15-24 years in all five countries (see Table 1).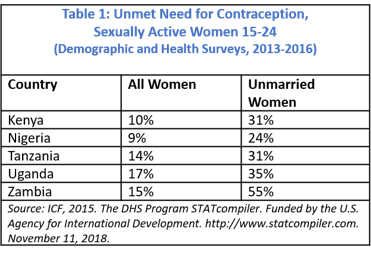 In recent years, all five countries have made efforts to strengthen their national policies to respond to the growing need for increased access to ASRH and family planning information and services among young people. However, policy responses are inconsistent and lack concerted, multi-sectoral coordination and implementation. Country governments also lack the necessary corresponding financial investments to expand contraceptives provisions for young people.
Committed to the realization of Family Planning 2020 commitments and universal health coverage, AFP has always focused on improving policy and increasing funding for family planning. In 2018, AFP renewed its focus on high-quality and equitable contraceptive access for adolescents and young people. Next month, in collaboration with the Ouagadougou Partnership, AFP will convene a similar working meeting in Francophone Africa as part of its new regional strategy there.
With more programs and organizations applying AFP SMART to the urgent issues of teenage pregnancy and low contraceptive uptake among sexually-active adolescents and youth, the collective efforts of advocates and government have the potential to catalyze efforts regionally, nationally, and subnationally.
Source
Advance Family Planning