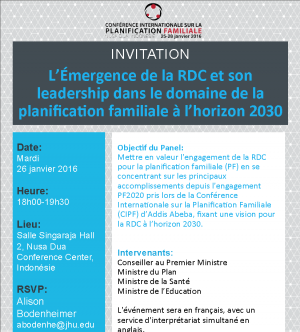 The Technical Advisor to the Prime Minister of the Democratic Republic of the Congo (DRC) and other high-level government officials will attend the upcoming International Conference on Family Planning (ICFP) in Nusa Dua, Indonesia. At an on-site auxiliary event on Tuesday, November 26th, the Technical Advisor and Ministers of Health, Education, and Plan will showcase The DRC's Emergence and Family Planning Leadership through 2030. The leaders will discuss their commitment and action since the country's commitment to Family Planning 2020 at the Addis Ababa ICFP in 2013. Beth Schlachter, Executive Director of Family Planning 2020, will provide introductory remarks.
Join the DRC's National Program for Reproductive Health at the Ministry of Health; Family Planning 2020; Tulane University; and the Bill & Melinda Gates Institute for Population and Reproductive Health at the Johns Hopkins Bloomberg School of Public Health for this unique opportunity at 6 p.m. in Singaraja Hall 2 on November 26. The event will be held primarily in French with simultaneous interpretation in English and Bahasa. The event is open to all conference participants; RSVP to abodenhe[at]jhu.edu to reserve your spot.
A recent article in Global Health: Science and Practice stated, "For long-time observers of the policy environment for family planning, the recent changes in the DRC are unprecedented and groundbreaking." Read more about Advance Family Planning's work in the DRC with local partner Tulane International.