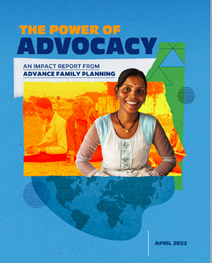 On April 26, Advance Family Planning (AFP) launched a new impact report, The Power of Advocacy, that tells AFP's story of building partnerships and achieving policy and funding change to improve family planning through advocacy. Available in English and French, the report marks the culmination of more than a decade of progress fueled by dedicated advocates who mobilized around a bold advocacy agenda under AFP.
A virtual launch event featured the voices of advocates who are creating deep and lasting change in their countries and communities. Watch the recording here in English.
The Power of Advocacy chronicles the journey from 2009 to the present, outlining the arc of AFP's story—our challenge at the outset, how we responded, the initiative's impact over time, and lessons learned to shape the family planning advocacy well into the future.
AFP's success clearly demonstrates that a sustained, multi-year, global advocacy initiative for family planning works. Yet, as AFP draws to a close in 2023, our work is far from finished. Local, national, and global family planning champions will carry forward what we started.
The report outlines three key learnings on what it will take to ensure this work can be sustained long into the future. Stay tuned for the upcoming Knowledge & Learning Series that will bring together the family planning community to discuss the future of advocacy and spotlight the new leaders in the movement.
Download it here. And share our social media toolkit here.
----
Le nouveau rapport sur Le pouvoir du plaidoyer retrace l'impact d'AFP
Le 26 avril dernier, Advance Family Planning (AFP) a lancé son dernier rapport d'impact, Le pouvoir du plaidoyer, qui explique comment des partenariats ont pu être construits et des changements politiques et financiers réalisés à travers le plaidoyer. Disponible en anglais et français, ce rapport est le point culminant de plus d'une décennie de progrès cultivés par des plaideurs et plaideuses engagés qui ont mobilisé partout dans le monde un plaidoyer ambitieux sous AFP.
Le lancement virtuel du rapport a mis en lumière les voix des plaideurs et plaideuses qui ont permis de créer des changements profonds et durables dans leurs pays et communautés. Regardez ici l'enregistrement en anglais.
Le pouvoir du plaidoyer est une chronique du chemin parcouru par AFP depuis son lancement en 2009 à aujourd'hui : le défi que nous nous sommes proposés de relever, comment nous y avons répondu, l'impact de cette initiative au fil des années, et les leçons tirées de cette expérience qui façonneront le plaidoyer pour la planification familiale pour des années à venir.
Le succès d'AFP démontre clairement qu'une initiative de plaidoyer mondiale, déroulée sur plusieurs années, pour la planification familiale, peut porter ses fruits. Mais alors qu'AFP arrive à son terme en 2023, notre travail est loin d'être terminé. Les champions de la planification familiale au niveau local, national et mondial continueront ce que nous avons commencé.
Ce rapport présente trois apprentissages clés pour que ce travail soit prolongé dans la durée. Prochainement, plus d'informations sur la Série de connaissances & apprentissages qui rassemblera la communauté mondiale de la planification familiale.
Télécharger. Et partagez notre kit d'outils pour les médias sociaux ici.