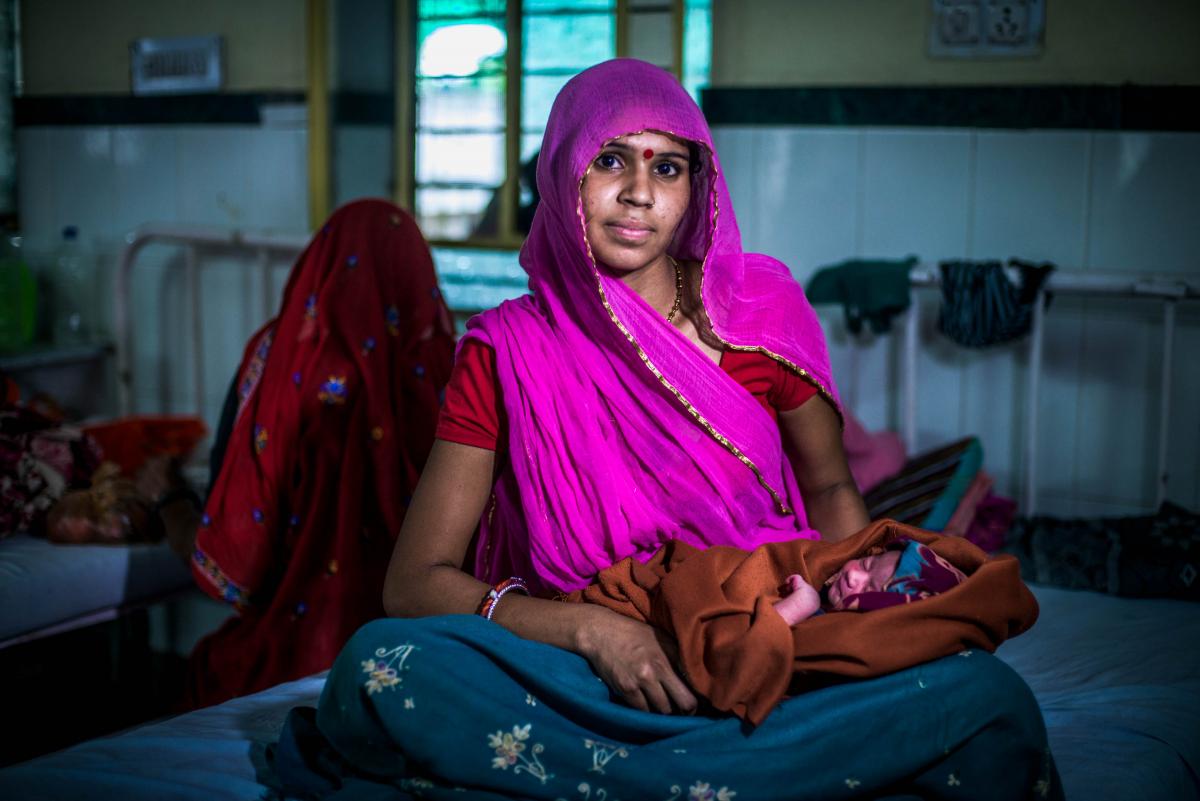 Intrauterine device (IUD) acceptance rates rose among postpartum women following a series of improvements to the quality of family planning services provided in four districts in Assam state. Postpartum IUD insertions in 25 facilities increased to 7.8% of all deliveries following the improvement of services (March 2018 to April 2019), compared to just 1.4% of deliveries before them (August 2017 to February 2018)[1]. Out of nearly 19,000 women who gave birth in the four districts in 13 months, more than 1,450 women had access to and choose an IUD than before the changes were made. State and district-level authorities made postpartum family planning access a priority in both funding and policy decisions at the urging of local advocacy working groups.
This progress builds on prior advocacy wins to introduce comprehensive family planning counseling in 29 high-delivery public health facilities in the four districts (Barpeta, Darrang, Dhubri, and Morigaon) in 2017. In late 2017 and early 2018, district officials took steps to initiate and enhance services in 25 of those facilities, holding provider trainings on postpartum IUD insertion and removal and ensuring the availability of supplies needed to deliver those services. Parallel budget advocacy efforts with the government of Assam led to a 112% increase in the state's approved family planning budget, with 19.6 million INR (US $282,000) now available to support services.
Thirty-one percent of women marry before the age of 18 in Assam, and approximately one-third of these women begin childbearing within two years of getting married. The state experiences both high maternal mortality (237 per 100,000) and newborn mortality rates (32.9 per 1,000 live births)[2]. It also has a high number of repeat pregnancies, with 6% of the births taking place within 18 months and 16% occurring within 24 months of a woman's last birth[3]. The World Health Organization recommends that women wait at least two years between pregnancies[4].
Advocacy efforts took shape in September 2017, when district working groups (DWGs) in Barpeta, Darrang, Dhubri, and Morigaon, with support from Advance Family Planning local partner Jhpiego India, identified a common goal during their AFP SMART strategy sessions: to increase access to birth spacing methods. An estimated 70.6% of women in these districts give birth in facilities2, making it a key opportunity to offer access to quality postpartum IUD services.
The DWGs advocated with the government to initiate and enhance postpartum IUD services by training service providers in 25 public health facilities across the four districts as a pilot. The additional chief medical officers of the Family Welfare division, who are members of the DWGs, supported them to identify the funds for the trainings. From November 2017 through February 2018, they jointly identified the best facilities, engaged trainers, and organized training sessions.
By February 2018, the DWGs' efforts led to a series of advances:
The

additional chief medical officers

released 400,000 INR (US $5,700) from existing district-level budgets to train 44 service providers from the facilities;

Chief medical health officers for each district directed the facilities to establish

"quality circles," a mechanism to ensure facility preparedness, prevent infection, and

review the overall quality of postpartum IUD services

[5]

; and
The districts received a state-level allocation of

250,000 INR

(US $3,600)

for procuring additional postpartum IUD forceps for the pilot facilities.
To ensure the timely and continued initiation of postpartum IUD services, Jhpiego India supplemented the DWGs' efforts with state-level advocacy to ensure funds would continue to be available for printing registers and instrument procurement. This led to state officials proposing an additional 18 million INR (US $258,000) for printing family planning manuals, registers, and formats[6], and 1.6 million INR (US $23,600) for procuring 3,000 postpartum IUD kits under the state-level 'Program Implementation Plan' for fiscal year 2018-19 in March 2018. The Government of India approved this budget request in June 2018, which is a 112% increase from the state's 2017-18 family planning budget.
The DWGs plan to increase the pool of trained service providers by providing periodic refresher trainings. Going forward, Jhpiego India will continue to advocate for the expansion and scale-up of postpartum IUD services and client follow-up across the state following this success.
[1] Ministry of Health & Family Welfare. Health Management Information System – Standard Reports. Accessed June 19, 2019. https://nrhm-mis.nic.in/hmisreports/frmstandard_reports.aspx
[2]Special bulletin on maternal mortality in India 2014-2016. May 2018. Sample Registration System. Accessed October 08, 2018. http://www.censusindia.gov.in/2011-Common/Sample_Registration_System.html
[3] National Family Health Survey 4. Accessed October 08, 2018. http://rchiips.org/nfhs/NFHS-4Reports/Assam.pdf, http://rchiips.org/nfhs/pdf/NFHS4/AS_FactSheet.pdf
[4] Pregnancy, childbirth, postpartum and newborn care: A guide for essential practice (3rd edition). Accessed June 19, 2019. https://apps.who.int/iris/bitstream/handle/10665/249580/9789241549356-eng.pdf?sequence=1
[5] Government of India, Department of Health and Family Welfare, Ministry of Health & Family Welfare. Standard and Quality Assurance in sterilization services, published November 2014.  http://nhm.gov.in/images/pdf/programmes/family-planing/guidelines/Standards_and_Quality_Assurance.pdf
[6] FMR code: 12.3.3 http://nhm.gov.in/nrhm-in-state/state-program-implementation-plans-pips/assam.html
Source
Photo by Children's Investment Fund Foundation courtesy of Flickr Creative Commons