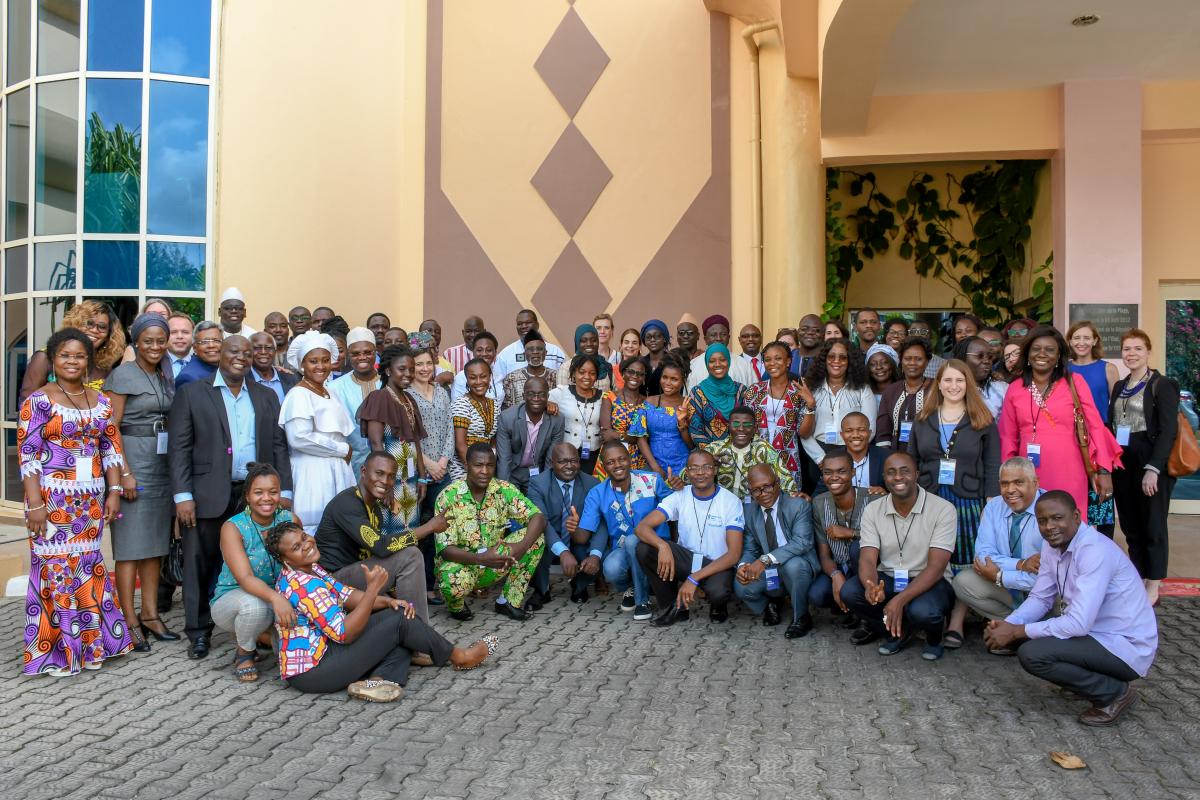 Between September 2019 and January 2020, Advance Family Planning (AFP) awarded six new Opportunity Fund grants to organizations in Ouagadougou Partnership (OP) countries to support advocacy strategies developed during the March 2019 Zero Pregnancies in Schools meeting in Cotonou, Benin. The strategies address public and private-sector interest in reducing pregnancies in schools and providing better contraceptive access for young people.
AFP organized the meeting in collaboration with PAI, Family Planning 2020 (FP2020), and the Ouagadougou Partnership Coordination Unit with the objective of accelerating progress on meeting adolescent and youth sexual and reproductive health needs in the OP countries: Benin, Burkina Faso, Cote d'Ivoire, Guinea, Mali, Mauritania, Niger, Senegal, and Togo. About half of participants were under 30 years of age; the majority are influential in their country, lead their own organizations, and are experts in family planning advocacy.
All nine OP countries are committed to the FP2020 goal of enabling 120 million more women and girls to use modern contraception by 2020 [1]. The OP has its own FP2020 commitment of reaching at least 2.2 million additional family planning method users and reducing the region's high unmet need for family planning [2]. Since nearly 43% of the population aged 15-49 in the OP countries are between 15-24 years of age, increasing contraception access for young people is a top priority [3].
Each country awarded the Opportunity Fund grant has their own unique objectives and timeline based on their country's needs. Following is a breakdown of the awards by country: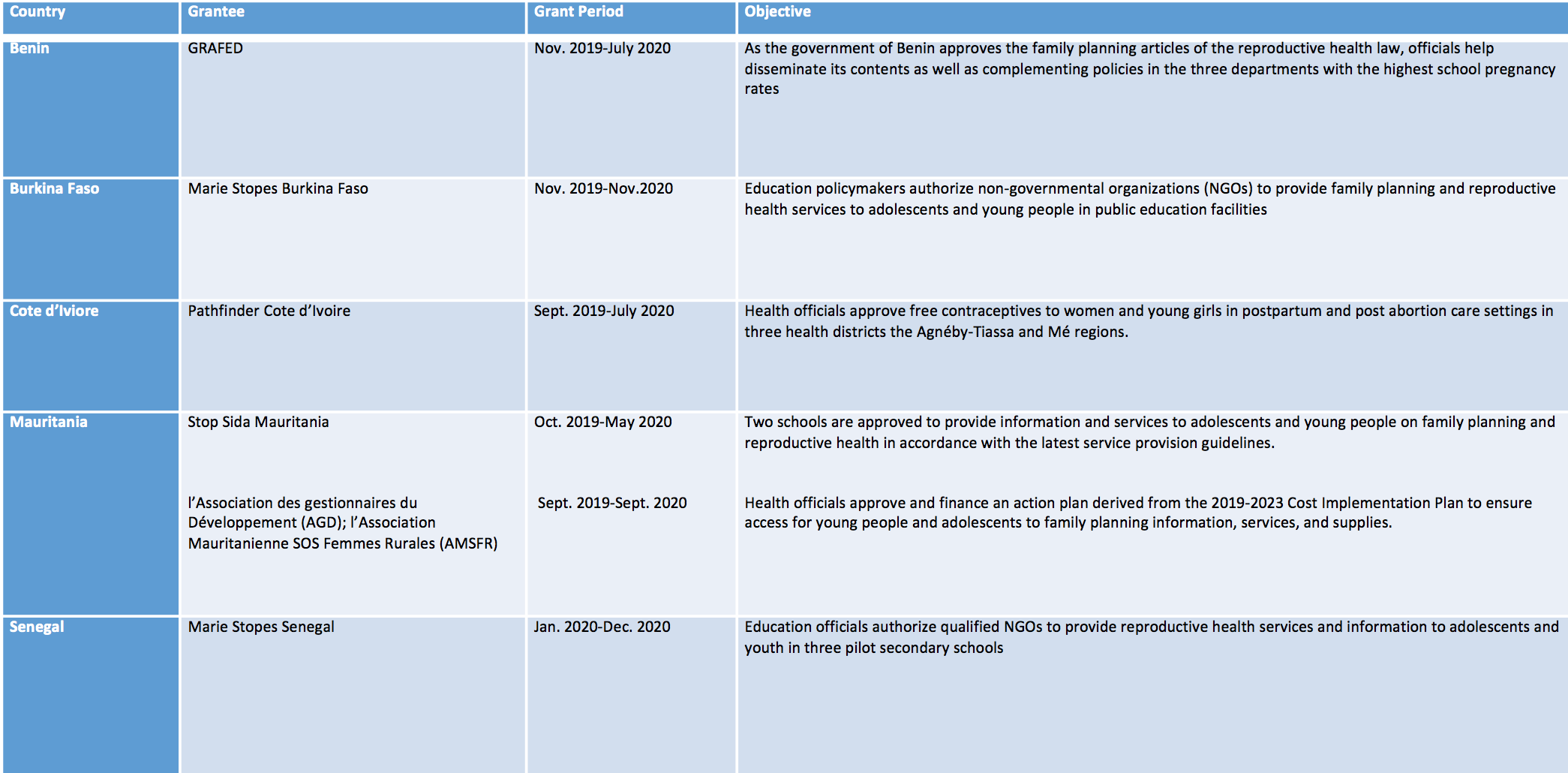 PAI and Marie Stopes International (MSI) will continue working with meeting participants and locally-led coalitions to refine the objectives and strategies. As strategies are implemented, AFP, PAI, MSI and other country-level advocates will monitor progress and communicate results.
AFP's regional approach and collaboration with the OPCU builds on five years of advocacy efforts in Burkina Faso and Senegal, where partners advocated for national and subnational policies and budgets favorable to family planning.
The Opportunity Fund, managed by PAI with funding from AFP, is a small grants program that helps advocates seize opportunities to accelerate Family Planning 2020's success at district, state, national, and regional levels.
For the latest on happenings in the OP countries, subscribe to the Ouagadougou Partnership Newsletter here: https://partenariatouaga.org/
References
[1] Brown, W., Druce, N., Bunting, J., Radloff, S., Koroma, D., Gupta, S., Siems, B., Kerrigan, M., Kress, D. and Darmstadt, G.L. (2014), Developing the "120 by 20" Goal for the Global FP2020 Initiative. Studies in Family Planning, 45: 73-84. doi:10.1111/j.1728-4465.2014.00377.x
[2] "Adding It Up: Investing in Contraception and Maternal and Newborn Health in the Ouagadougou Partnership Countries." FP2020. FP2020, December 14, 2018. https://www.familyplanning2020.org/resources/adding-it-investing-contraception-and-maternal-and-newborn-health-ouagadougou-partnership.
[3] United Nations, Department of Economic and Social Affairs, Population Division (2017). Population by age and sex (thousands). World Population Prospects: The 2017 Revision, custom data acquired via website.
Source
Photo by Advance Family Planning