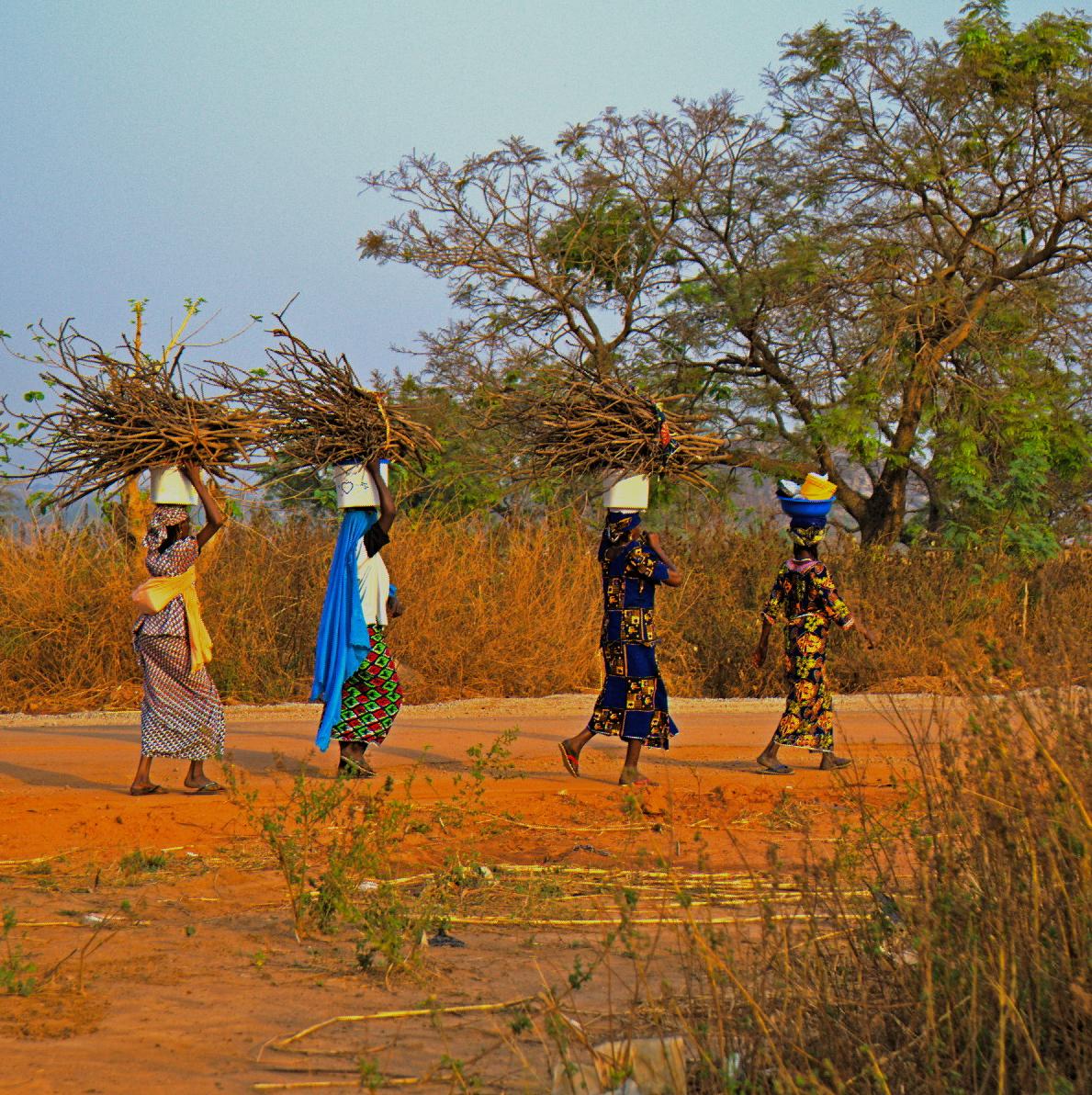 In May 2019, the National Population Commission in collaboration with the Federal Ministry of Health in Nigeria released their 2018 Demographic Health Survey findings. The findings show marginal progress on key family planning and reproductive health indicators. Results indicate the country's total fertility rate (TFR), which measures the number of children a woman is likely to have during her childbearing years, decreased from 5.5 births per woman in the 2013 Nigeria Demographic Health Survey (NDHS)[1] to 5.3 births per woman in the 2018 NDHS[2]. Meanwhile, the total contraceptive prevalence rate (CPR) for married women using both traditional and modern methods has increased by 2 percentage points over the last five years, from 15% to 17%.
 This is the sixth report since 1990 and surveyed the greatest number of women aged 15-49 years to date. The majority of respondents are currently married or living together with a partner, and over half live in rural areas. Knowledge of contraceptives is widespread among respondents with differing socioeconomic backgrounds, yet fertility preference remains high.
 Despite citing an overall increase in CPR among married women, the NDHS indicated there were significant differences in CPR across individual states (see Table 1). Gombe State had an impressive increase in CPR (325%), while Kwara and Oyo States each had decreases of up to 44%. Adamawa State, where AFP is not active, saw the highest increase, at 470%. Additionally, CPR among sexually active, unmarried women nearly halved from 68% in 2013 to only 37% in 2018.
 Advocates say the CPR discrepancies between states may indicate stock-outs or other issues with contraceptive supply. The graph below shows the breakdown of CPR by AFP-active state.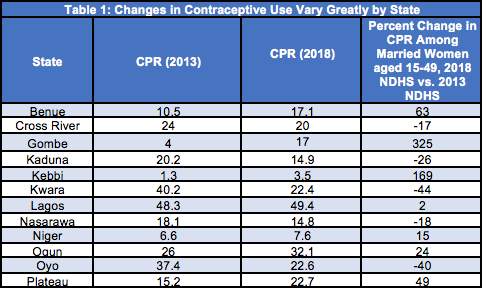 "The NDHS comparative analysis of family planning parameters is an eye opener on the importance of political commitment at all levels towards achieving Nigeria's FP2020 goal," says Dr. Farouk Jega, Country Director of Pathfinder International. "We've observed a significant increase in CPR in Adamawa State attributable to the state government's keen interest in and support for family planning. This is a wakeup call to all stakeholders to continuously engage the government especially in the southern states, where we have seen a drop in CPR, to cater to women's sexual and reproductive needs. I strongly recommend that the Federal Ministry of Health leads a study tour to Adamawa state to gain insight on what led to the outcome."
 The 2018 NDHS shows unmet need for family planning increased by 3 percentage points for married women nationally since 2013. The increase in total demand for family planning from 31% to 36% among married women may contribute to this increase in unmet need over the last five years.
 Surprisingly, the 2018 NDHS also shows that unmet need for family planning was higher among women in the highest wealth quintile compare to those in the lowest, as well as for women with more than secondary education, compared to women with no education.
 In the context of these statistics, it is especially disappointing that the government of Nigeria's 2019 Appropriation Bill reduced this year's national budget for family planning by almost 90% from 2.9 billion Nigerian Naira (NGN) to 300 million NGN (US $8 million to $832,000). This action directly contradicts the country's stated political and financial support for family planning.
 As part of their Family Planning 2020 commitment, Nigeria has set a goal to increase the modern contraceptive prevalence rate (mCPR) to 27% of all women—though it is still falling short at 12%. Without full funding of the government's annual commitment of $4 million (1.4 billion NGN), there could be significant shortage of contraceptives in 2019/2020.
 Aside from these setbacks, the NDHS still shows some promising progress. During the last five years, the use of modern contraceptive methods among all women has increased from 10% to 12%. Nigeria continues to make strides for family planning beyond the national budget, as Lagos State approved 92 million NGN ($254,000) budget allocation for family planning in June. The funds will be used for training of health workers, establishment of youth-friendly centers, and procurement of family planning consumables and supplies.
 Advocacy efforts will remain in full swing to ensure both a favorable policy and budget environment that will help Nigeria meet its Family Planning 2020 commitment.
References
[1] National Population Commission (NPC) [Nigeria] and ICF International. 2014. Nigeria Demographic and Health Survey 2013. Abuja, Nigeria, and Rockville, Maryland, USA: NPC and ICF International.
[2] National Population Commission (NPC) [Nigeria] and ICF. 2019. Nigeria Demographic and Health Survey 2018 Key Indicators Report. Abuja, Nigeria, and Rockville, Maryland, USA: NPC and ICF.
Source
Photo by Antonio Rizza courtesy of Flickr Creative Commons